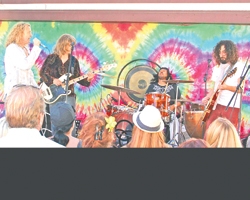 Barbara D'Angelo has lived in Sunset Beach for 32 years. To say she loves living in Sunset would be an understatement.
"It's such a very small community," D'Angelo said. "You can't walk down the street without saying hello to people." Her love and appreciation of Sunset Beach got D'Angelo thinking she wanted to give something back to the community she loved.
Ten years ago she made good on that wish, and started something called "Sunset Beach's Community Concert." It started on a small scale, but has grown bigger in the last decade. Now she calls it the "Electric Magic Classic Rock Beach Fest."
Saturday, Aug. 22 will be the tenth year she has organized this party, and it happens to fall on D'Angelo"s birthday—although she is reluctant to say, exactly, which birthday she will be celebrating.
The band, Led Zeppelive, is a Led Zeppelin cover band, featuring Shawn Kelly on vocals. This year the concert will also feature an opening act: Heart Attack, a tribute to Heart.
Proceeds from the concerts have been used to pay for things needed in Sunset Beach and this year D'Angelo hopes the money raised can go toward building a new patio at the Community Center, her venue of choice.
Although D'Angelo has some help, her yearly effort is really a one-woman-band. She organizes, raises funds, contracts with vendors, designs the posters and tickets, handles publicity and sets up and takes down the event.
In other words, she literally does it all.
In exchange for her hard work, she knows that the community will have a good time and raise money that will be plowed back into Sunset Beach.
The Rock Beach Fest is held at the Community Center at North Pacific and 12th Street.
Doors will open at noon and the first band will take the stage at 1 p.m.
The event also features a raffle, which is held after the band plays. The top prize is usually a big screen television.
Tickets are $20 presale 562-260-7131 and $25 at the door. Raffle tickets are $1 each or  six for $5.
A taco truck will be set up outside the gates all day; beer, wine, soda and water will be sold inside the venue.
Tickets are also available at Don the Beachcomber.