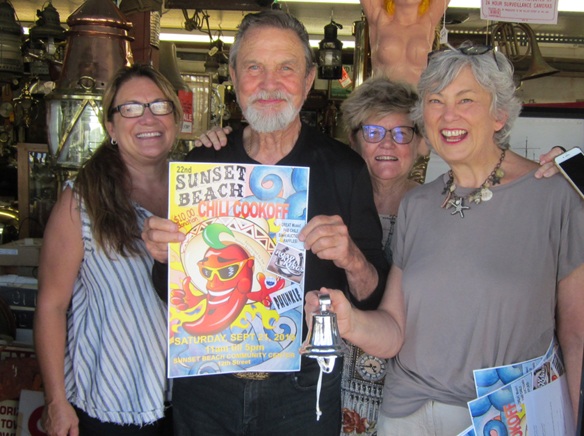 The 22nd Annual Sunset Beach Chili Cook-Off is looking for contestants to share their delicious dishes with the public and judges in hopes of getting bragging rights as the Chili Champ of the beautiful seaside community. To sign up, contact event co-chairs Cheryl Coleman, at 714-717-1728, or Mercedes French at 714-425-1382, by Aug. 15.
The cost for contestants is $125; for the public (who get to sample the chili), $10. All proceeds go to the Sunset Beach Woman's Club to be used to help the community through local charities. The festival, which includes live entertainment, will take place at the Nobles Family Community Center, 16861 12th St., from 11 a.m. to 5 p.m., on Saturday, Sept. 21.
"It's a great event for a great cause & everyone participating has so much fun," Coleman said.
"This is one of our favorite traditions! It helps symbolize our annual Summer Celebration, which combines great music from Road Kill Kings and Phunkle, delicious chili samplings, raffles, auctions and photo ops with laughter and friendship," said Dawn McCormack, past President of the Woman's Club. "It's a real example of old school Sunset Beach at its best! All proceeds fund local scholarships and also help maintain the historic Sunset Beach Woman's Club and the Sunset Beach Community Center. The event is sponsored by the Woman's Club, established in 1929."
Local merchants donate items for the raffle. Eric Bakker, proprietor of Antiques of The Sea, provided a Ship's Bell for the raffle. "I really appreciate what the Woman's Club does to help the whole town," Bakker said. "What a wonderful & caring group."
To make donations or volunteer you can call Mercedes French or Cheryl Coleman (phone number above). To rent the Woman's Club building at 16812 Bayview Drive or to join this fun group, you can call Dawn McCormack at 562-343-0218.