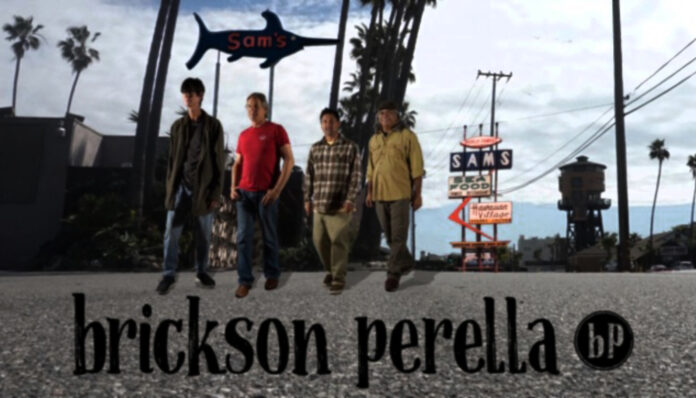 The Sunset Beach Art Festival has announced the entertainment lineup for its 55th Annual Arts and Crafts Festival on Mother's Day weekend. Below is the band schedule and other scheduled events. Pictured is the band "Brickson Perella", a Long Beach-based band made up of members Darren Brickman, Scot Dodson, Jason Perez and Ed Estrella. They will be playing with "Kick Time" from 11 a.m. to 1:30 p.m. on Saturday.
Saturday May 13
Roger Garzon -local solo entertainer performing wide range of music genres opens the festival on Saturday May 13
11 a.m.: Kick Time plays covers that range from '60s, '70s, '80s, to current.
Noon: Brickson Perella – original alternative rock music.
1:15 p.m.: Lorenzo's Flashback Band – A fun rock group plays classic rock from the '50s, '60s & '70s. Rockabilly, Surf, British-Invasion, Mod, Psych, Pop, Peace-&-Love…
2:30 p.m.: Deadwood – Huntington Beach based band playing classic rock, blues, and Southern rock.
4:15 p.m.: LMA – A female fronted cover band paying homage to the badass women of punk, pre-punk and riot grrrl movement.
5 p.m.: Corn Doggy Dog and the 1/2 Pound – After a three-year hiatus, welcome back everybody's favorite post punk, cover band. Come sing along to all your favorite hits!
Sunday May 14
11 a.m.: Girl Friday – cover band who put a folk song spin on things!
Noon: Cowboy and Indian – People all over the world, join hands and enjoy songs about trains-Johnny Cash style!
1:30 p.m.: Long Beach Leftovers – an all-star cover band comprised of members of several popular local bands from the '80s and '90s.
2:30 p.m.: Crew 52 HB Lifeguard Band Beach Boys '60s classic rock n' roll with the Surf City GoGo dancers – entertaining and fun!
4 p.m.: Phunkle – part of the Sunset Beach local scene for more than a decade, this group is always a crowd, favorite playing funk to classic rock to Latin.
Weekend schedule of events
Friday, May 12 – 6:30 p.m. – Gallery Artist Awards Program – All Welcome
Saturday, May 13 – 9 a.m. to 6 p.m. – Art Festival
Sunday, May 14 – 9 a.m. to 5 p.m. – Art Festival
Arts & Crafts booths are located on the grass area/greenbelt between N. Pacific and S. Pacific from Broadway to 7th Street. Over 150 artists will display their wares making it a great place to find the perfect Mother's Day gift! Parents may relax while kids play in the Kids' Zone.
Parking is available at Peter's Landing and the parking lot at the end of Warner with regular shuttle buses delivering you to the Festival.
For more information, visit sunsetbeachartfestival.net