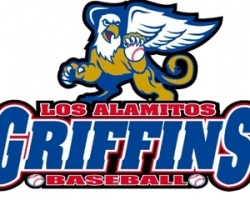 Another big inning for the opponent would prove to be Los Alamitos' downfall Friday afternoon, the varsity baseball team dropping its sixth Sunset League game in a row, 11-4, to Fountain Valley.
For the second straight game, the Griffins (2-7 in league and 9-11 overall) would give up a seven-run inning to the Barons (4-5 and 11-8). Fountain Valley would score 10 runs in the first three innings to take a lead it would never surrender. The Barons took advantage of four Los Al miscues in the first three innings.
The visitors scored three runs on five hits off Los Alamitos pitcher John Heacock before the Griffins got on the board in the bottom of the second. Pat Ivison opened with a ground rule double and scored on Jared Owen's triple to right field to cut the deficit to 3-1. Owen was left holding the bag as the next hitter grounded out.
The seven-run frame opened with four hits, a walk and three errors before Sam Lorenzini came on in relief. After giving up a single to the first hitter he faced, Lorenzini got the next three hitters out to end the rally.
Los Al threatened in the third, Frankie Padulo reaching on a shortstop's error to lead off the inning. The freshman would be left at second as the next three hitters flew out.
After a scoreless fourth, Fountain Valley added its final run in the fifth. Los Alamitos came back with a three-run bottom of the frame.
Owen and Michael Farris both singled to get things started. Owen came home on a single by Padulo. Joey Wright's one-out single would load the bases.
Nick Vilter continued the rally with a single to score Farris and cut the lead to 11-3. A wild pitch later scored Padulo. Wright and Vilter were stranded, part of seven stranded Griffins in the game, as the next two hitters were retired.
Los Al threatened in the sixth, getting two-out singles from Farris and Padulo, who moved up on a passed ball. It wasn't to be as the next batter grounded out to shortstop.
The Griffins face Newport Harbor in two games this week. Today's game is played at Los Alamitos with Friday's matchup played at Newport Harbor.
Los Alamitos won the first meeting with the Sailors, 13-3. Game time for both contests is 3:15 p.m.