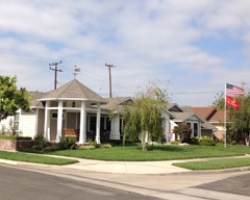 Would you like to show off your remodeled Rossmoor area home, all decked out for the holidays in December?
The Rossmoor Woman's Club is seeking nominees for the annual Holiday Home Tour—a neighborhood tradition for more than 25 years—scheduled this year from 11 a.m. to 4 p.m., Sunday, Dec. 3.
The event, which grossed $34,000 last year, is a major community fundraiser.
The woman's club uses all net proceeds to fund scholarships for deserving Los Alamitos High School students and to support organizations including Precious Life Shelter, We Care, Bethune Transitional Center, Friends of the Los Alamitos Rossmoor Library, Los Alamitos Museum, the Youth Center, Pathways to Independence and many more.
Homes in Rossmoor and the Highlands are eligible.
As a thank you,  participating homeowners will receive four free tickets to the event and a flower arrangement especially created for your home by floral designer Darrell Poper, AIFD.
The home tour includes a tea room with silent auction and a raffle. Contractors and others whose work is on display during the tour and businesses that donate items or services for the auction and raffle receive credit in signage for the event.
For more information and to volunteer your home, please contact Pat Aldridge, fund raising chair, at 562-277-4633 or pataldridge@hotmail.com