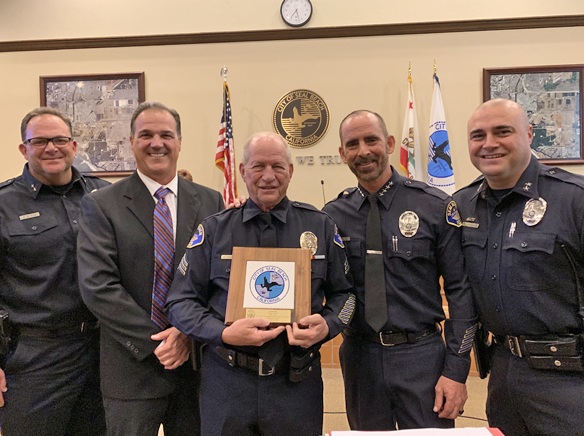 By Jeannette Andruss
Sometime in the 1970s, Rick Ransdell was working as an officer in the Los Angeles Police Department when he and his partner responded to a burglary call in Watts.
It had been raining and as the officers walked around the outside of a house, Ransdell noticed a clue below an open window – a shoe stuck in the mud. "So, we drove around looking for a guy without a shoe on and we found him, limping down the street," Ransdell explained. "We told him, 'If the shoe fits, you're going to jail.'"
That's just one story Ransdell recently shared during an interview about his fifty-year-long career in law enforcement. That career will come to an end December 18. Ransdell, a Detective Sergeant, is retiring from the Seal Beach Police Department after three decades with the force. Before coming to Seal Beach, he served twenty years with the LAPD.
At the December 10 Seal Beach City Council meeting, Ransdell was recognized for his half a century of service.
"It's bittersweet because I've worked with him for thirty years," Interim Police Chief Joe Miller said at the meeting. Miller said he's learned a lot from Ransdell, thanked him for his service and gave him a plaque and a certificate from California Governor Jerry Brown.
"It's been a joy and I just hate to leave but I think it's time," Ransdell, wearing his highly decorated uniform, told attendees at Monday's meeting. They responded with a standing ovation.
A Journey of 50 Years in Law Enforcement
Ransdell, 73, grew up in Compton and had an interest in going into the U.S. Forest Service when he graduated from Dominguez High School in 1963. Why did he become an officer? "Funny story," he said with a grin, wearing a Hawaiian shirt in his office in October. In 1967, he was working for the phone company earning $450 a month. When a couple LAPD motor officers said he could make $677 a month as an officer, he signed up.
A lot has changed in law enforcement since Ransdell started his career. In 1967, he was one of the LAPD officers who patrolled freeways in the city, a job California Highway Patrol took over in 1969. When he started there were no bullet-proof vests, officers used revolvers with hand-loaded bullets, all reports were handwritten and there were no hand-held radios. "If you needed help you had to run back to your car, unlock it, start the car, turn the radio on, wait for it to warm up then you could call for help," Ransdell explained.
Ransdell also witnessed first-hand how technology has changed his profession. "The advent of the computer has significantly increased the ability of law enforcement to do their job," he said, but cautioned the advances can make officers more complacent about some of the risks of the job. "They rely more on their technology to keep them aware rather than their own self-awareness," he said.
'I didn't even know Seal Beach Existed'
After twenty years working in LAPD, and feeling burned out, Ransdell retired in 1987. He was working for a contractor but was looking for a new job when he discovered Seal Beach on a drive to Long Beach. "I didn't even know Seal Beach existed," he said. The year was 1989.
He checked out the police department, saw it was hiring and applied right away. He was hired, promoted to sergeant in 1990 and held numerous roles until he was named Detective Sergeant in 2016.
"There's a major day and night difference between law enforcement in L.A. and law enforcement in Orange County," Ransdell said. In Orange County, Ransdell was introduced to community policing and a public that was much friendlier than what he encountered in L.A. "I've even gotten thanked for giving a ticket. That wouldn't happen in L.A."
That wasn't the only difference. Early on during Ransdell's time in Seal Beach, a call came in of a complaint about loud dogs. "Who responds to that?" he recalled asking with a laugh. "We do," was the response.
"We go to everything," Ransdell explained. "That's the interaction between law enforcement here and the community." In comparison, Ransdell said LAPD sometimes wouldn't even get calls when people were shooting at each other.
Ransdell also noted how the SBPD is like a family, which includes the dispatchers and other team members. He said at the massive LAPD, there was more of an emphasis on hierarchy.
"It's a pretty astonishing feat," former SBPD Sgt. John Scott said of Ransdell's fifty years in law enforcement. Scott worked with Ransdell for 26 years. "It was interesting to hear his stories from the old days," Scott said. Ransdell was affectionately called 'Papa Smurf,' according to Scott, a nickname he says reflected Ransdell's even-tempered demeanor.
Keeping Work and Home Life Separate
An ability to control his emotions and compartmentalize is what Ransdell said helped him stay in the physically and mentally demanding field of law enforcement for so long. "The horrific things I've seen, I don't share it at home. The funny things? Yeah. But the horrific things you don't and you try to block that out," Ransdell said.
His youngest son Michael Ransdell praised his father for not bringing his work home and said it made their lives easier. "If he got blood on his uniform, he would buy new clothes," he said. "He's a hell of a guy. He's my hero."
Ransdell has two sons, a daughter, five grandchildren and seven great grandchildren.  Ransdell and his wife of 28 years, Denise, who both survived cancer in 2009, plan to move to Texas with their five Labrador Retrievers and spend more time taking cruises. "As long as he was happy and healthy and wanted to go to work every day, then that's what I wanted too," she said of her husband's career.
Ransdell said he'll miss the people the most. "We have a community that's very supportive of our law enforcement family." On Monday night, he thanked the law enforcement family and the community during his public farewell.
"It's a hard place to leave, but I have to go."