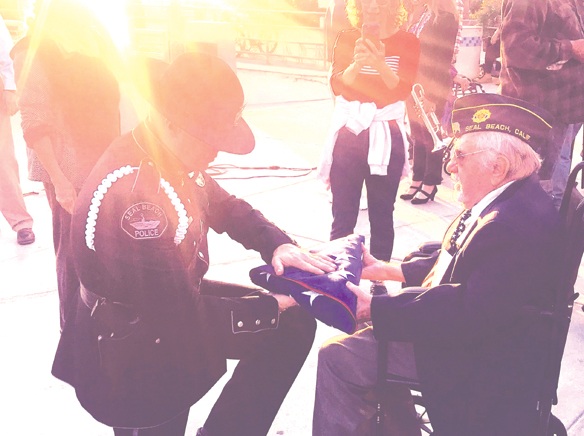 About 200 people gathered at the Seal Beach flag pole Sunday to celebrate the first ever flag ceremony in which veterans from all services gathered to honor and respect the American Flag. The flag ceremony followed the Veteran's Day event, near dusk.
The event was organized by former Los Al high school history teacher Michael Pazeian and supported by the City of Seal Beach and other organizations, including the Veterans of Foreign Wars and local American Legion posts.
With veterans and their family members seated near the base of the flag, the veterans from multiple wars and representing various armed forces were entertained with the Armed Forces medley by the Los Alamitos High School choir, currently the top choir in the nation.
Trumpeter Annette Wissuchek, also from Los Al High, played taps as the flag was lowered and folded by an assortment of veterans from the American Legion, Veterans of Foreign Wars. The flag was presented to veteran Bill Thomas, who created a plaque that stands at the base of the pier.
The plaque consists of an American flag in full color, superimposed over the outline of the United States of America. The large circle in the middle of the flag represents the places around the world where our men and women serve. Within the circle is a chart paying tribute to the area men and women, living and deceased, the POWs and the missing within the six branches of service that make up the United States Armed Forces.
Brandon Beukelman, Chaplin of the Cypress Police Department and a local pastor, gave the invocation for the ceremony.
Pazeian said he hopes to make the flag ceremony a regular event for local veterans.