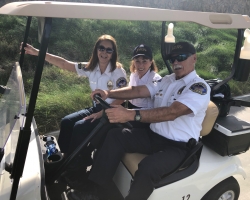 The Seal Beach Police Foundation is going through its annual re-organization with an eye to the future. Given the changes which have occurred with the department, it is appropriate that the leadership of the organization continues to develop. Still keeping the focus on "providing tools, resources, and training for the Seal Beach police department," and working more collaboratively with all emergency responders continues under the new presidency of Greg Phillips. Vice President Frank Bursinger joins him, Treasurer (and immediate Past President) Tom Stretz, and continuing in her role, Secretary Gina Phillips.
The Foundation, in addition to the major grant of the new 2018 Saleen Mustang to the police department, has continued and will continue to fund resources, equipment and training outside the scope of the normal budgeting process for the department and the City of Seal Beach.
Also, the Foundation is proud to have awarded over $68,000 just in the 2017 calendar year, which has brought a total for the last two years of $131,600 to the department, VIPS, CERT team, and other police department agency support organizations.
Terri Bursinger, who is staying on the board and as the accountant on the Finance committee for the Foundation said, "the Foundation has had powerful impact on the morale of the police department with the patrol vests, the honor guard and of course the Saleen." She continued, "plus we have done a lot to increase training and access for officers to bring new or improved skills to the department, while still opening up the department to the public such as the Safety Awards luncheon and open house."
Recently formed, a new special events committee is examining event and community engagement ideas. Also, governance is actively looking for citizens who would like to give back to the community by joining ad hoc committees or submitting an application for consideration for the board of directors.
Seth Eaker is a member of the Seal Beach Police Foundation Board of Directors.