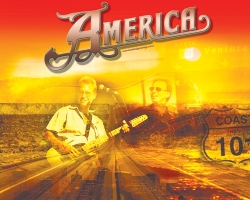 In the early '70s, a trio known as America became a global sensation and a household name when the band's single A Horse With No Name galloped to the number one spot on the music charts. The group released hit after hit and quickly made music history when it won a "Best New Artist" Grammy Award. America brings its signature breezy brew of acoustic guitars and high vocal harmonies to the Cerritos Center for the Performing Arts on Friday, Feb. 2, 8 p.m. Tickets, which start from $65, are available at the CCPA Ticket Office, cerritoscenter.com, or by calling (562) 916-8500.
America originally consisted of friends Gerry Beckley, Dewey Bunnell, and Dan Peek, who cemented their rise on Billboard charts with the Top 10 singles "Ventura Highway" and "I Need You," winning legions of fans and a Grammy in 1972. The group's best-known tunes, from soul-bearing ballads to unique medleys – including "Tin Man," the inspirational "Lonely People," and the number one hit "Sister Golden Hair" – were cornerstones of 1970s Rock radio and Top 40 music charts.
The trio's success came strong and fast, spawning a series of Platinum and Gold albums, including "America," "Homecoming," "Holiday," and "History, a compilation of the band's greatest hits." America's songs, typically highlighting themes of travel, displacement, and restlessness, have long transcended borders, winning fans from all walks of life.
At the height of America's success in 1977, Peek amicably left the group to pursue a solo career as a Christian Pop artist. Beckley and Bunnell continued on, delivering the album "Silent Letter," and the edgy "Alibi." In 1982, America climbed back on the music charts with the hit "You Can Do Magic" from the "View From the Ground" album.
In 2006, America was inducted into the Vocal Group Hall of Fame. A fateful encounter with Adam Schlesinger of the Indie-Rock group Fountains of Wayne led to a new recording contract with Sony BMG's Burgundy Records label. Teaming up with Schlesinger and James Iha of Smashing Pumpkins, America delivered the 2007 two-CD set "Here & Now," a spectacular distillation of the band's past and present hits. The duo's first major-label studio record since "Perspective" in 1984, "Here & Now" preserves America's classic core sound while also introducing new titles by younger musicians heavily influenced by the Soft Rock pioneers.
For tickets or more information, call 562-916-8500 or go to cerritoscenter.com.