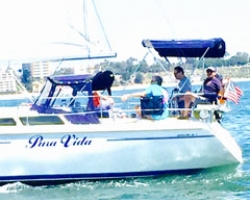 Local clubs take blind individuals on boating adventure
On Sunday, Aug. 20, the Seal Beach Lions Club and the Seal Beach Yacht Club hosted the Second Annual sailing and boating adventure for the visually impaired. Chaired by Lions Mary Hollen and Laura Ellsworth, this event has only grown in size and scope.
Over 80 visually impaired guests and their companions enjoyed a continental breakfast at the Yacht Club and were then escorted by Seal Beach Leos and volunteers to 14 waiting boats, including two powerboats.
The guests were treated to an excursion in, around and beyond Alamitos Bay, as far away as the Queen Mary and the oil islands. Many of them took turns at the helm of their vessels, and some were even given a go at the tiller. All that wished to do so were encouraged to participate in the handling of the boats.
Upon returning to the Yacht Club after a couple of hours on the water, the Lions served up a grilled burger lunch to approximately 175 guests and volunteers from both clubs.
It was a fantastic event for all involved, particularly the participants. One guest said, "For those that came for the first time, they were blown away. The old timers were more excited and overwhelmed that so many [volunteers] remembered them from last year."
A long-time married couple said, "My wife and I had a great time, especially on the boat and for the skipper letting me do some rudder control driving, it was a great feeling. I know that it takes a lot of effort and time, not to mention hard and physical work, to be able to provide such an event for us blind people; God is going to bless you and the Lions club members for your generous and personal giving. We are looking forward to next year already and can't wait."
For boat-owning Lions and Yacht Club, this event was an opportunity to give back to those in our community who would not otherwise have the opportunity to enjoy some of what many boaters take for granted every day.
At least for one day, some of us who normally do not have the chance get to enjoy riding the sea, feeling the wind on our face, and soaking in the glorious warmth of a sunny day in August.