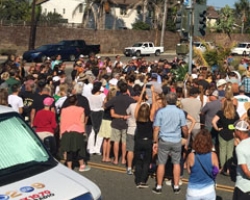 The streets of Seal Beach were overflowing with love for Sarah Krueger and her family on Saturday afternoon. In a touching and visually powerful tribute, hundreds of people took part in a memorial walk for Sarah led by Krueger's husband and three children. Sarah was 46 when she was struck by a car while crossing Pacific Coast Highway at 12th Street on Aug. 11.
Neighbors, friends, family, co-workers and others crowded outside the Krueger's Catalina Avenue home Saturday afternoon filling the entire block before embarking on the route Sarah was said to have loved. Many were holding flowers as they walked, clutching one another and stopping for hugs along the way. "[Sarah] touched a lot of hearts. She was a good person," said Jerry Cohn, who said he'd known Sarah since she was a girl growing up in Long Beach.
Among the walkers was a group of Sarah's fellow nurses from Long Beach Memorial/Miller Children's Hospital. Sarah had worked at the hospital since 1995 in the labor and delivery and post-partum wards. "We loved Sarah," said nurse Kathy Tyo with tears in her eyes and a red rose in her hands. "She was great, she was fun … She brightened everything like crazy."
Thanks to an escort by Seal Beach Police, the massive crowd was able to walk in the street and halt traffic as it made its way down to the beach and back. Seal Beach Police Commander Steve Bowles said, "This is how we do it [in Seal Beach]. We're family." Bowles said organizers had been working with the Police Department for about a week to plan the walk and expected a big turnout. It's estimated 500-600 people attended.
Neighbor George Beljajev lives across the street from the Kruegers family and called the turnout "amazing," a sentiment that was echoed by many. "It just goes to show how many people love the Kruegers and how good they are," Beljajev said.
Krueger family friends Alex Phillips, her husband Chad and their son walked to support their friends under a blue and sunny sky. "It's beautiful to be out here and to be here. Sarah would have loved this," she said.
Jack Duty knew Sarah from childhood and said she helped deliver his son at Long Beach Memorial Hospital, the same hospital where she ended up succumbing to her injuries. Duty called the public show of support "unbelievable."
The walk culminated with an emotional stop at the corner of PCH and 12th where a shrine to Sarah filled with flowers and candles has been growing. Sarah's husband, Larry, and her children and friends paused there to pay tribute to the mother, wife, nurse and neighbor who, in the words of one walker had "touched so many lives."
Police are still investigating the accident and are seeking information from the public.
The driver remained at the scene and is cooperating with the investigation. TV station KCBS reports the driver had a green light, has not been charged and was very distraught after the crash.
Last week, Seal Beach Police confirmed that the driver remained at the scene.
Sarah's husband told KCBS, "I don't want to see anyone ever injured in that crosswalk again." KCBS also reported Larry wants blinking lights added to the crosswalk to alert drivers when pedestrians are walking. A petition on Change.org pushing for a left turn signal to be added to the intersection has gathered 4,971 signatures so far. City officials say PCH is under the jurisdiction of Caltrans but the city manager is working with the state agency to analyze the intersection. At the end of the walk, roughly two hours after it started, people gathered back at the Krueger house filling up tables set up in the street for a reception. Friends stopped to offer condolences to the grieving family.