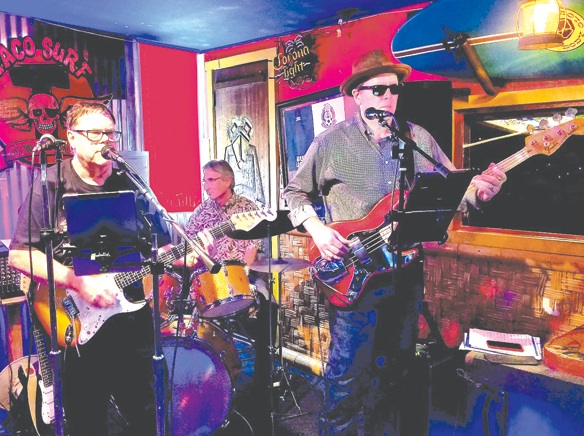 A talented pair of Knights of Columbus members from St. Anne's parish, J. Jones and Rich Bluth, joined with veteran rock singer Tom Summers, to rock the legendary Taco Surf bar and restaurant recently, with dancers coming out of the woodwork (which makes it hard on both the dancers and the woodwork).
Jones, a bass player, and Bluth, a drummer, first got together a few years back, and did some performing on their own. Jones began playing guitar in 2014 and took up the bass guitar two years ago at the suggestion of Bluth, who advised him that bands are always looking for bass players.
Summers and Bluth were employees of the same company and soon discovered a mutual interest: music. Summers sang with an active band at the time, but needed a drummer for rehearsals. Bluth sat in with Summers, the two ended up working together for ten years as a duo. They ultimately decided that a bass guitar would add depth to the band's sound, and then along came Jones. With his two solid years of bass guitar experience, he made it a trio.
Rich Bluth had long been a fan of jazz drummer Buddy Rich, but in time, his appreciation of the funk talent of Tower of Power drummer David Garabaldi began to take up a good portion of Buddy's space.
J. Jones encourages anyone interested in music – even at age 55-plus – to take up a musical instrument. The resources available on the web can quickly build one's skill level from a home setting. And social media is there to help find a group or other musicians with whom to practice.
Radio Deluxe music critic Don McCulloch, who had heard the Party Jones band recently, said the band was one of the most enthusiastic local groups he had seen in awhile. McCulloch produces the weekly international radio show Radio Deluxe with John Pizzarelli. Jazz guitarist Pizzarelli has recorded with numerous legends, including Paul McCartney, James Taylor, and his wife Jessica Molaskey.