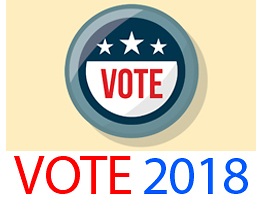 Editor's note: After this story appeared in the Sun's print edition, officials issued a notice that the the Orange County Registrar of Voters will conduct a recount of the votes in the Orange County portion of the 34th Senate District race.
It's official. The Nov. 6, 2018 election results have been certified by the Orange County Registrar of Voters, but voters in Old Town, Seal Beach have another election next month.
On Jan. 29, retired business owner Joe Kalmick will face small businessman Peter Amundson in a runoff for the District One City Council seat after no candidate earned more than 50 percent of the vote. Kalmick led with 40.5 percent of the vote while Amundson earned 26.7 percent, just 38 more votes than third-place finisher Scott Levitt.
"I'm grateful to the voters for putting me into the runoff showing their confidence in me to represent them as their Council member," Amundson wrote in a statement to the Sun.
"[Joe's] very thankful and appreciative of the support he received to get in the runoff," Elizabeth Kane, a coordinator for Kalmick's campaign, said in a phone interview. She added that Kalmick was "happy to see the level of engagement" of voters citing turnout in the district topping 80 percent in some precincts.
Measure BB: sales tax increase
Measure BB, which increases Seal Beach's sales tax by one percent, passed with 58.6 percent of the vote and had majority support in all but two of the city's precincts. The hike takes effect on April 1, 2019. BB could generate an estimated $5 million in increased revenue. Council members have said they want to use some of that money to hire more police officers, an issue that will be considered at the Dec. 10 City Council meeting. BB money could also go toward filling vacancies at City Hall and restoring service cuts made during the last budget process such as reductions in tree trimming and machine grooming of the beach.
LAUSD school board
Newcomer and former teacher Marlys Davidson was the top vote-getter in the race for two seats on the Los Alamitos Unified School District Board of Education which governs nine schools including J. H. McGaugh Elementary School in Seal Beach. "I am deeply honored to represent our students and community on the Los Alamitos School Board," Davidson wrote in a statement. "I owe this opportunity to serve to all the parents, educators, students, and community members who truly made this a grassroots campaign."
Incumbents Dr. Jeffrey Barke and Diana Hill campaigned as a team, but Hill ended up with 31 more votes than Barke to secure the second open seat on the Board. "I am honored to have the opportunity to continue to serve LAUSD, its students, parents, staff and the community. I was privileged to serve with Dr. Barke. He was a pioneer and his legacy includes safety measures that will serve our students for years," Hill wrote in an email message to the Sun. Hill also congratulated Davidson on her win and wrote, "she cares deeply for students and will bring her perspective as a former teacher to the board."
"It has been my honor to serve the students and community over the past 12 years," Barke, the Board President, wrote in an email message to the Sun. "I wish nothing but success to the new Board of Education in serving the students and communities of Rossmoor, Los Alamitos, and Seal Beach."
Turnout, split on taxes and other takeaways
Total turnout for the election was 71 percent in Orange County, the highest rate for a midterm election since 1970. In Seal Beach, turnout was generally above the county average and, in some precincts, well above 80 percent.
While voting for the Measure BB sales tax increase locally, Seal Beach voters rejected tax hikes in another vote. Most voters here approved of Proposition 6, the statewide ballot measure to repeal gas and fuel taxes that ultimately failed in California. Voters in Seal Beach also voted in favor of Measure G, a $97 million school bond measure for LAUSD.
In the race for the 48th Congressional District, Seal Beach voters helped flip the district from Republican to Democrat. A slim majority of voters in Seal Beach supported Democrat Harley Rouda in his successful bid to unseat the 30-year incumbent, Republican Dana Rohrabacher. Rouda was one of four Democratic candidates to win in congressional districts covering parts of Orange County that had been held by Republicans. Nationwide, Democrats won 39 seats in the midterm election to gain majority control of the 435-member U.S. House of Representatives.
In some other races, more Seal Beach voters supported GOP candidates who ended up losing.
For instance, in the race for California Governor, Republican John Cox lost to Democrat Gavin Newsom. But Cox earned more votes in Seal Beach than Newsom. Similarly, in the race for the 34th State Senate District, Democrat and former Assemblyman Tom Umberg scored an upset victory over incumbent Republican Janet Nguyen. But in Seal Beach, Nguyen garnered a majority of the votes.