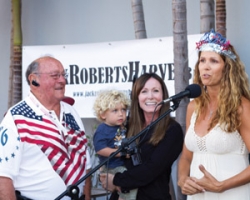 Baytown Realty, which as all those who know Jim Klisanin, is also "Steelers Territory" celebrated 35 years in business on Thursday, Sept. 4.
Jim and his current business partner, Sharon Amarantos, collected friends, family, clients and business leaders in the parking lot of 321 Main Street for an old style late summer barbeque and beverages. Founded in 1978, Baytown Realty has helped countless buyers and sellers with their Seal Beach real estate transactions.
"By thinking outside the box, coming up with strategic and creative marketing tactics, and going beyond the closing table, Baytown lives up to its motto of "Dedication – Knowledge – Excellence."
Baytown Realty has been a fixture in Seal Beach with Jim Klisanin at the helm. Jim was born and raised in Pittsburgh, Pennsylvania and spent summers working for his father in the construction industry.
Jim said: "My work ethic is based on the teachings of my father who was a Croatian immigrant and believed in hard work and perseverance."
Jim was an avid athlete playing football, baseball and basketball while attending college in Wichita, Kansas.
After a successful college career he moved west to teach school in California. He happened upon Seal Beach in the mid – 1960s and bought his first home. Not long after moving to Seal Beach he began a second career in real estate. Over the 50 years he has resided in Seal Beach, he has been deeply involved with the community including: the Seal Beach Lion's Club, the Seal Beach Christmas Parade, the Chamber of Commerce, coaching little league baseball and softball, donating to city charities/organizations and much more.
Jim opened his first office in Seal Beach during a constricted real estate market when other offices were closing their doors. His community engagement and deep knowledge of real estate have carried him through ups and downs in the town.  Currently, he has several other agents which work in his office, including: Mike Thomas, Kim Foltz, Penny Nichols and Judy O'Neill.
Worthy of note is that Jim is not just a broker; he is a key property owner in Seal Beach and owns the building, which houses Baytown.
His daughter Shana, a source of great pride and joy for Jim said: "My dad is so generous and when I was growing up and even working for him, he would remind me, 'if you wish it, you can have it'."  Shana worked with Jim at Baytown for the last several years, before moving on to executive coaching and change management.
Vince Bodiford, president of the Chamber of Commerce said, "Jim embodies the idea of a 'Magician of Main Street.' He has helped build not only Main Street, but also the very character and personality of Seal Beach.  To the business community he is a kind of godfather and an example of success."
For more information on Jim or his business, visit www.baytownrealty.com