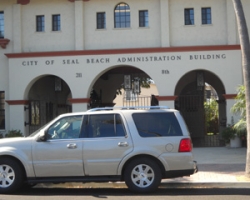 The Seal Beach City Council will consider changing the boundaries of two districts at the Monday, Oct. 10 meeting. At that time, the council will discuss moving three city blocks and at least 241 Seal Beach residents from District 3 into District 1.
Every 10 years, the council and county agencies throughout the state look at district boundaries based on the U.S. Census. The Seal Beach City Council holds two hearings on the subject. The council held the first hearing at the Monday, Sept. 26 meeting.
The council appointed a subcommittee to look at redistricting on July 11. The subcommittee was made up of Councilman Gary Miller and Councilman Gordon Shanks.
According to the staff report, the California Elections Code requires districts to have roughly equal populations.
Seal Beach, with an official 2010 Census population of 24,149 residents, averages 4,830 residents for each council district. Districts range from 364 residents below average to 357 residents above average, according to the staff report.
The report said the subcommittee tried to keep communities together as much as possible.
"Given the physical barriers of the freeways, the Naval Weapons Station and Leisure World, the subcommittee decided that the existing boundaries for Districts 2,4 and 5 should remain intact," the report said.
"Because District 5 is entirely within Leisure World, the subcommittee saw no easy way to change the boundary. Any boundary change that did occur would involve Districts 5 and 2, which also represents Leisure World along with College Park West and the Shops at Rossmoor," the report said.
"After looking at several options, the subcommittee concluded there was no logical way to redraw the boundary between District 5 and 2. Further, District 2 is closes to the average district size and changing the boundary would reduce it below the average population per district," the report said.
That left Districts 1 and 3, which share a boundary.
"After exploring several options, the subcommittee is recommending that the district boundary for District 1 be moved west to include the blocks of 4th, 5th and 6th streets between Central Avenue an Marina Drive," the report said. "The new District 1 boundary would extend to the street centerline of 4th Street and Marina Drive," the report said.
No members of the public spoke at the first redistricting hearing on Sept. 26. However, Councilwoman Ellery Deaton said it did not make sense for one half of the street to be in one district. Shanks said he saw her point. However, Shanks said the residents of those blocks already think they are in District 3. Deaton and Shanks agreed to work out there differences between the Sept. 26 and Oct. 10 meetings.
If you have a comment or response to this story" write us at dennis@sunnews.org or go directly online to www.sunnews.org. Find the story and leave your comment there.