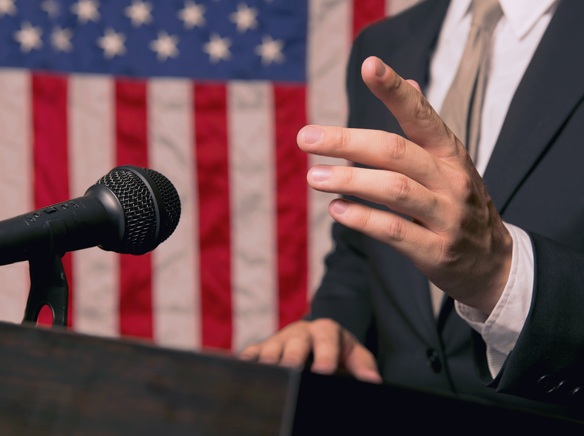 Dozens of speakers shared their stories, fears and admonishments with the Los Alamitos Unified School District Board of Directors regarding what many said have been long-standing issues of racism and bigotry within the school district for years at the board's meeting on Sept. 25.
Speakers included parents, students and teachers, some of whom shared personal experiences of racism. The district has been under fire in the past few weeks, stemming from a Facebook post by McGaugh Elementary Principal Roni Ellis-Burns in which she called former NFL player Colin Kaepernick and "anti-American thug," for his kneeling during the national anthem as a protest against police brutality among minorities.
The issue was inflamed when Los Alamitos resident and Chapman University Journalism Professor Susan Paterno wrote an opinion piece in USA Today, that not only criticized Ellis-Burns, but took the Los Alamitos City Council, school district and the community to task for long-term racism that has gone unchecked.
After listening to all the speakers, board members assured attendees that these issues would be addressed. Superintendent Dr. Sherry Kropp, had also shared information she had obtained at a parent meeting at McGaugh Elementary, on Sept. 17.
"I've heard you loud and clear," Board President Jeff Barke said. "It's time for action … action is what we will get."
Board member Megan Cutuli addressed the attendees and speakers, and had trouble keeping her emotions in check, saying that what she had heard broke her heart. She assured people that the board was taking the issues very seriously.
"This has opened my eyes, we have work to do," Cutuli said.
But some of the speakers expressed skepticism about how much was known and for how long. The opinion by Paterno had pointed out reports going by to the '90s about issues such as Nazi skinhead flyers being placed in lockers at the high school campus.
"Pretending like you guys didn't know that racism was out of control at our high school, is ridiculous," Ann Saks told the board during her speaker time.
Other speakers included students of color, who shared experiences of racism within the district. Some said they had experienced some form of bigotry at all levels of school. One black student said that just this year, she was greeted at high school, with the N-word. The student said that another student had greeted her simply by saying "Hi, [N-word]."
Dwight Radcliff, a parent of a high school student, said that students of color often don't feel safe at school. But Radcliff added that he is also aware of instances where bigotry and insensitivity has hurt LGTBQ students and even students with disabilities. And he stressed the frequency of the acts.
"It's not just a random occurrence," Radcliff said.
During her report to the board, Dr. Kropp outlined some of the ideas that the district is discussing at ways to address the problems. She also noted that after the post by Ellis-Burns, she fielded hundreds of emails and held the parents meeting at McGaugh. Kropp said that after communicating with community members and holding the meeting, she felt the district had failed part of its obligation to the community. And that part of the mission statement the district strives for, was not true. But Kropp was also hopeful that these instances can lead to change.
"We have to use this as a catalyst to do better," Kropp said.
A community group called Los Alamitos Community United, started a petition after the Ellis-Burns posting, asking the district to act to address the problem. A couple of speakers spoke in defense of Ellis-Burns' right to free speech. It was also noted that teachers in the district have posted political rants, some with profanity, and that if Ellis-Burns was fired, or disciplined, those teachers should also be disciplined.
But Barbara Farrell, who helped start the petition that gathered nearly 2,700 signatures, pointed out that the petition did not call for Ellis-Burns to be fired. It demanded that the district enact diversity and inclusion training for teachers and leaders, as well as advancement of a multi-cultural, anti-bias curriculum and creation of an equity, diversity and inclusion task force within the district.
"They want to change the tone in the schools," Farrell said of the petitioners.
The main complaint against the post, was regarding the use of the word "Thug."
One speaker noted that the word might not have the same connotation within all racial groups. But those who took offense to it say that its use has a racist tone when describing an African-American who was peacefully protesting. Another speaker pointed out the literal definition is "A violent criminal."
Los Alamitos High biology teacher, Eddie Courtemarche, added that while freedom of speech is important for both language that is popular and unpopular, there are boundaries.
"Racially insensitive, coded language, such as the use of the word 'thug' to describe an African American, has no place in education," Courtemarche said.
Jessica Riegert also spoke to the board regarding the lack of communication and collaboration between schools and administration which may have contributed to the issues. She invited board members to visit the school more to work with teachers and school staff in changing things.
"I think we can all agree, there is no dialogue," Riegert said.
Drew Sells added that the current problems, and the changes needed to correct them rest on many shoulders.
"As a district, we need to get better at self reflection," Sells said.
The district did agree to the terms of the petition, and is beginning the process of forming a task force to come up with a plan for addressing the issues.
Community members say they will be insistent on different points of view within the task force. Cola Greenhill-Casados, a mother of a high school daughter, said that this issue is bigger than all of us and that there has to be change.
"That task force needs to be incredibly diverse," Greenhill-Casados said.
Plans in the works
In a follow up to the meeting, the district and school board stated that a task force will be formed to provide direction on where the district will go moving forward. Kropp said that she is meeting with small focus groups to determine how the task force will be formed and that it needs to be a diverse group, that represent all schools and stakeholder groups, and that it should include experts.
"Our schools are the heart of a community, which encompasses a wide range of people and perspectives. As educators, we have an obligation to those we serve to be informed, thoughtful, and respectful in our words and actions. We also have the utmost responsibility to do whatever we can to ensure all students feel safe, welcome, supported, and valued in our schools. We always appreciate hearing from students and staff about their experiences so that we can use this information to continually improve," Kropp said in a statement.
Barke also added after the meeting that the board is committed to providing a culture in which all students can thrive in a diverse society.
"We are grateful for the input and the involvement of so many of our families and community members who want to be part of the solution. The School Board will not stop until all students feel safe, welcome, supported, and valued in our schools," Barke said in a statement.
Marlys Davidson, a former teacher and candidate for the LAUSD School board, said that the district needs to get to a point where differences are celebrated. She also stressed the need for input from a diverse group will be vital to the process.
"We need people who are experiencing it," Davidson said.