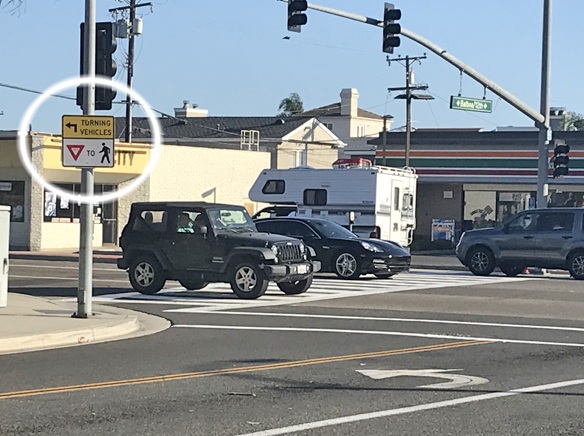 The husband of a Seal Beach woman who died in a tragic accident has filed a lawsuit against the city, the California Department of Transportation, and the driver who was charged with driving the vehicle that struck her. Sarah Krueger was killed Aug. 11, 2017, while attempting to cross Pacific Coast Highway at the 12th intersection after a vehicle being driven by Thomas Chandler Bell, 71, who was making a left turn, struck her as she attempted to cross the street. Krueger was rushed to Long Beach Memorial Hospital, where she died a short time later.
The Orange County District Attorney's Office has charged Bell with misdemeanor vehicular manslaughter without gross negligence. The court has scheduled a pre-trial conference for Oct. 16.
As the criminal case proceeds, attorneys representing Lorenz Krueger, Sarah's husband, have now also filed a civil complaint naming Bell, Seal Beach and Caltrans as defendants. The law offices of Victor L. George filed the action on behalf of Krueger. In addition to Krueger, his children are also listed as plaintiffs in the case.
Since the accident occurred a year ago, the pending court actions have actually slowed any improvements at the intersection. Seal Beach police had been prevented from providing the actual accident file to Caltrans until the District Attorney eventually filed charges against Bell. Charges were eventually filed, and Bell plead not guilty on Sept. 24.
Since the charges were filed, Seal Beach police provided the file to Caltrans and work has been done at 12th and PCH. The crosswalk has been repainted with bright white strips and workmen have installed a warning sign on the left utility pole as drivers reach the intersection from the "hill" section of Seal Beach.
According to Caltrans, these were the most appropriate actions. According to spokesman Van Nguyen, "regarding your email concerning PCH and 12th Street in Seal Beach, our operations team has conducted multiple field investigations and traffic analysis of that intersection. They've reviewed numerous accident data and monitored traffic counts."
"Caltrans recently modified the existing marked crosswalks to Ladder Marked Crosswalks at that location and installed Turning Vehicles Yield to Pedestrian signs on Balboa Street and 12th Street last month. Safety is Caltrans' top priority and we will continue to monitor the PCH and 12th street intersection," he said.
Following the action, two residents, Kimberley Osborne and Laura Torgerson have said the Caltrans action was insufficient, having witnessed another "near miss" on Aug. 8, 2018 in the exact spot where Krueger was killed.
In the incident, which was described in more detail in a letter to the editor, a total of eight people, including a mother and baby (in a stroller) was caught in the crosshairs as a driver attempted to turn left and had to slam on the brakes as the mom and child were terrified. "The new signs are not enough," they said. "It was frightening and infuriating."
Despite the protests, Caltrans said this week that since a lawsuit has been filed, they will have no further comment. "There is an active lawsuit on this case, so I can't provide further comment," said Nguyen.
According to Orange County Court records, Krueger's civil petition was filed Aug. 9 and a case management conference has been called for Nov. 8.