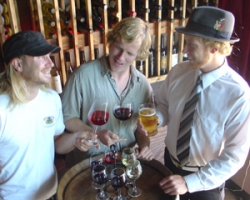 No one told the three youthful entrepreneurs there was a recession on and it might be a poor time to grow a business.
In the spirit of John Paul Jones, the sailing and spirits enthusiasts have continued to carve out a place in the Sun region, following their bliss and making money in the process. Like Jones, their motto seems to be "Damn the torpedoes, full steam ahead."
Their core endeavor is Corks Away, a service business that takes people out on the company's sailboat for a wine and hors d'oeuvres experience as they tool around the scenic local waters in and around Alamitos Bay. Now the guys—Seal Beach natives Shane Cianciolo and brothers Noah and Nathan Buffett—have expanded their reach.
The three will hold a grand opening this Friday, Oct. 14, at their new wine bar, CA Wine Room (as in Corks Away) next to McKenna's on the Bay at the Alamitos Bay marina.
The new business grew out of a project they had named the Ships Pantry they had debuted a few months earlier.
The three lifelong friends recently received their ABC (Alcoholic Beverage Control) license along with a food license. They are just getting up and running. CA Wine Room has a piano in the establishment and they sell other beverages such as coffee and panini sandwiches during the day.
The story of the three young businessmen—they are in their later 20s—begins when they were kids of about 8 years old, growing up surfing together and then discovering a common interest in sailing.  In their adventurous youth they fashioned a boat/raft out of used surfboards and body boards.
It was Cianciolo and his friend Nate Buffett that started the wine cruises when they were 23 years old.
They purchased a 30-foot sailboat named Wildflower, a shell of an abandoned boat of former glory, for $1,000 and put about $20,000 into its renovation. The vessel was a type known as a Rhodes "Ranger" that was originally built in Holland.
The two friends would travel back and forth to Ventura to work and oversee the work on the boat that had been out of the water since 1996.
After about 10 months of elbow grease and picking out special items to decorate the ship, they took it on a maiden voyage to Catalina to break it in and check it out. Their struggles in getting their business afloat have delighted their guests over the few years they have been in operation.
Buffett became the captain and Cianciolo the host.
They found that their offering of ambience mixed with fine wine and food snacks began to draw a fan base.
Business has been good enough for them to now spread their sails and head into their next adventure. The three are eager to see how their new adventure on land will work out. They encourage their friends, family and the curious to come visit their new wine bar in Alamitos Bay marina on Friday, Oct. 14 and enjoy some wine, food and other offerings.
For more information on Corks Away cruises or wine bar, call (562) 606-4546.