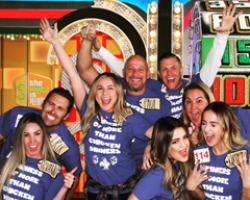 A 22-year-old Rossmoor resident walked away with $10,000 in prizes and wowed the producers of the Price is Right game show by solving their hardest contest in the 2nd fastest time ever.
According to her mom Tina Buono, her daughter Kirsten walked away with a bundle of prizes and memories after a group from Studio Fifty Fifty in Huntington Beach spent their day off at the CBS Studios.
"We had a great time," said Buono. The trip began as an idea for the family, and five of Kirsten's friends to spend their Monday off at the show. For the Buono's, it is a hobby, attending talk and game shows taped within the L.A. area. "It started as something I could do with my daughter," said Buono, and this trip ended up being a family and friends outing. They all dressed in Price is Right shirts and headed for L.A. "The CBS show producers started the day interviewing every member of the 300-member audience, she said.
"When they say the contestants are randomly picked; they really are," said Buono.
Even though they were all interviewed, the mom said Kirsten's quick wit about her profession caught the producer's ear. When asked what she did for a living, Kirsten told them she was a "hair wizard." Boom, just like that, she made the cut.
When called onto contestant's row to actually compete, Kirsten won her first bid and jumped on the stage (the episode aired last week but interested readers can still find it online at the CBS web site). Kirsten's challenge was the "Race" game, wherein she was shown a number of prizes and had matching cards with prizes. Her challenge was to match the prizes and the prices in 45 seconds or less.
According to her mom, producers were amazed that this former Los Al High School graduate solved the mystery in 23 seconds, the second fastest time in the game show's history. Kirsten walked away with all of the prizes in the challenge, which her mom said amounted to more than $10,000.
Although Kirsten was the only one in the group of eight called to compete, Buono said they were delighted and very proud of her. After they left the Bob Barker studio, Kirsten treated the group to dinner at the Farmer's Market near the studio. She said they spent most of the evening there, talking to many others who were in audience and came up to congratulate Kirsten. Kirsten and the Buonos live in Rossmoor.