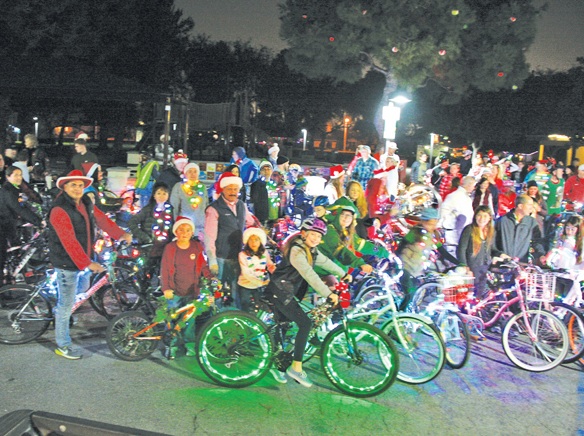 There were too many bicyclists at Rush Park to count for the Rossmoor Christmas Lights Bicycle Tour night-time ride last week. Well over 250 and couldn't fit all the people and decorated bikes in one picture frame.
Under a full moon, the holiday spirit was alive and thriving, and this Rossmoor Christmas Lights Bicycle Tour was turning into a parade.
There were so many families on their decorated bikes in lights riding by, playing Christmas carols and being cheered on by spectators along the sidewalks.
During last year's tour, someone shouted, "Let's get over 200 people next year!"
Blew that number away—thank you all participants and Rossmoor homeowners who decorated their lawns for the riders to enjoy along the path!
The bicycle tour appears to be growing larger every year. Families of all ages and bicycles of all colors gathered for this third annual Christmas lights biking event, guided by the Rossmoor Homeowners Association Christmas Lights Hot Spots Map, identifying all the key decorated homes in Rossmoor.
The event Saturday night was even more organized and coordinated than before. Organizers offered special thanks to the local LightningVelo Cycling club. Nia Hartman (with her bubble machine) and her club members reportedly did a fantastic job preparing for the pre-decorating session and the hot chocolate gathering at Rush Park upon completion of the route. They also conducted safety checks for bikes on Friday and Saturday prior to the ride.
Organizers also thanked Lynnette O'Bryan for taking the group photos and merging them together. Next year's ride is scheduled Saturday, January 21, 2019. It's already on the RHA website's calendar (www.ourrossmoor.com). If you have ideas to make the ride even better, contact Chris Marshall at Rossmoorlights@gmail.com. In the meantime, Merry Christmas and hope to have you in the bike parade, checking out Christmas lights with us next year.