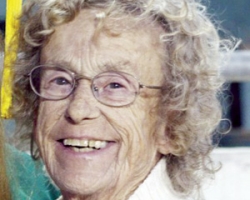 Marilyn Claire (Jolliffe) Barrett was born in Cleveland, Ohio, on May 9, 1939 to Minabel Clara Davis Joliffe and George Conard Jolliffe. She died on Aug. 7,2011, at her home in Seal Beach surrounded by her family and her beloved dog Cole.
Marilyn Barrett married William Charles Barrett on Sept. 20, 1958, at Archwood United Church of Christ, Cleveland, Ohio, where she was a life long member. She adored her husband, and tried to support all of his senior softball activities, until his death on Oc. 23, 2007.
Barrett was an active and involved person in Ohio. As a teen, she belonged to the Cleveland Assembly of Rainbow Girls and later joined the Eastern Star. She graduated from James Ford Rhodes High School and became a licensed practical nurse at Lutheran Hospital.
She worked in a hospital before she married Bill and continued to work until her daughter, Loletta, started school. She was head night nurse in a nursing home on weekends when her eldest daughter was in high school. She also owned! operated Glen Mar, an assembly company for Antenna Specialist/The Allen Group with her brother for several years.
Barrett was the first and founding volunteer manager of the Brookside Hunger Center, Westside Ecumenical Ministry in Cleveland, Ohio, where she supervised all the volunteers and ran the center. In addition to raising her own four children, Barrett took care of 44 foster children from 1965 -1983. Most ofthe children were newborn to one year of age. Approximately five of them were older children. About being a foster mother she would say, "There is always room at the inn."
In her spare time, Barrett coached six boy's baseball teams, culminating with leading the "Momma's Boys" to the Parma City 11-12 year old baseball championship in 1974.
She was also a Cub Scout den mother, Girl Scout leader, and very active in the PTA. Understandably, it was to her house that friends of her children "ran away," and sought her advice and counseling. The family moved to California in 1983, when her husband joined Northrup Grummon to work 011 the B-2 Stealth Bomber project.
Recently, Barrett was active in Volunteers in Policing with the Seal Beach Police Department and spent over 7,500 hours with the VIPS program. Barrett also volunteered with the West Orange County Community Emergency Response Team and at the Joint Forces Training Base in Los Alamitos.
In her other spare time, Barrett liked to go fishing. She loved supporting her sons and grandchildren in sports, and daughters and granddaughters in school activities.
Barrett is survived by her children and their spouses:  the Reverend Dr. Loletta Marie Barrett (Upland, Calif.); William Lamar Barrett and his wife Robin Taylor Barrett (Upland, Calif.); Kathy Lynn (Barrett) Zucco and her husband Tom Zucco (North Royalton, Ohio); Glenn Charles Barrett and his wife Robin Barrett (Cypress, Calif.). Two "adopted" children: Agnes and Casey Chung (Edison, NJ)  and six grandchildren: Halley Taylor Barrett (Upland, Calif.), Travis William Barrett (Upland, Calif.); Nicole Marie Zucco (North Royalton, OH); Natalie Christine Zucco (North Royalton, OH); William Tyler Barrett (Cypress, Calif.) Kyle Robert Barrett (Cypress, Calif.) Brother and his wife: Glenn and Georgia Jolliffe (Howard, OH) Brother-in-law and his wife: Kit and Daca Kramer (Steam Boat Springs, CO) Sister-in-law and her husband: Cathy and Dennis Courtemarche (Seal Beach, Calif.) Seven nieces and nephews, one great-niece, and one faithful furry friend, Cole (Upland, CO)
A celebration of Barrett 's life will take place at 2 p.m. on Saturday, November 26, 2011, at the Marina Center at 151 Marina Dr., Seal Beach. One of the things Marilyn Claire Barrett was fond of saying was: "Blessed are those who can give without remembering and take without forgetting."