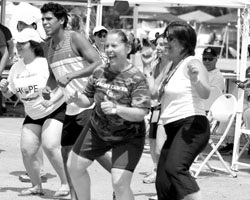 The American Cancer Society is bringing its "War On Cancer" to the backyard of West Orange County.
Relay For Life of Los Alamitos, Seal Beach and Rossmoor organizers will begin promoting the event with a Kick-Off  program Thursday, March 18  at the Youth Center in Los Alamitos beginning at 7 p.m.
Relay For Life is the American Cancer Society's signature event in the fight against cancer.
The Sun Region relay will be held from July 31 to Aug. 1 at Oak Junior High School, according to the ACS Web site.
The 24-hour relay brings together members of the community to honor cancer survivors and patients, increase awareness and raise much-needed funds.
The American Cancer Society Relay For Life represents the hope that those lost to cancer will never be forgotten, that those who face cancer will be supported and that someday cancer will be eliminated.
This year the planning committee believes they can have more teams and raise more needed funds to help eliminate this dreaded disease. "We have all been touched by cancer in one way or another," said Anna Marie Cohen, event co-chair. "Relay For Life is a place where we as a community can take up the fight together.
"In 2005 a friend asked me to participate in this walk for her neighbor who was battling cancer. She said she needed walkers for 24 hours. I told her good luck.  But she brought me the information and I learned the walk was not only for her neighbor it was for all cancer survivors.  It was for all caregivers," Cohen said.
"It was for those of us who had lost a loved one to cancer.  It was for me. It takes a village to support someone who has heard those dreaded words 'You have cancer!' and our community is that village," Cohen said.
At Relay For Life, teams of 10-15 people camp out over night, taking turns walking or running around the track relay-style.
Each team pays a $25 entry fee, and each team member is asked to raise a minimum of $100 in donations. While one team member is on the track, others enjoy camping, food and games and spending quality time with other members of their community.
Register your team and get the early bird discount by visiting the Web site at www.relayforlife.org/losalamitossealbeachca. Relay For Life begins with a Cancer Survivor Celebration, where all cancer survivors from Los Alamitos and Seal Beach are encouraged to walk the first lap around the track.
After the sun goes down, a heart-warming luminaria ceremony takes place. Luminaria can be purchased for a suggested donation of $10. Each luminaria offers a place for the donor to write a personal message on the bag. The bags line the track and light the way for runners and walkers throughout the night.
For more information on how to get involved in Relay For Life, visit www.relayforlife.org or contact the event chair at (714) 904-0253 or lauraherzog06@ca.rr.com.
Laura Herzog is event chair for the Los Alamitos, Seal Beach and Rossmoor Relay For Life.