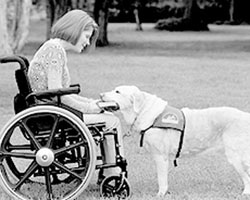 The Seal Beach International Friendship Association will welcome Kimberly Otter and her dog Lissa, a graduate team from Canine Companions for Independence on Thursday, March 18 at their monthly dinner meeting.
Reservations are required and accepted on a first-come, first-served basis. Seating is limited.  RSVP by March 14.
The dinner and meeting presentation will start at 6:30 p.m. at the Senior Center of the Mary Wilson Library in Seal Beach, 707 Electric Ave.
Otter and Lissa will be making a presentation on how Canine Companions for Independence is able to provide highly-trained dogs free of charge for people with disabilities.
Otter will show the audience some of the commands that Lissa recognizes and uses to assist her with in her everyday life.
With the support of volunteers and donors in this exciting program, miracles happen for people with disabilities such as multiple sclerosis, cerebral palsy, spinal cord injury, hearing loss and developmental delay.
For example, Wallis, suffers from dystonia—a disease that causes her muscles to spasm spontaneously for 15 minutes to 4 hours in what is known as a dystonic storm. Recently, Wallis' dog Caspin assisted when Walllis experienced a "storm"  while shopping.  Caspin paid the cashier, got the bag from the cashier and pulled her wheelchair all the way out of the store so she could "leave the store gracefully."
He can also retrieve her phone and other dropped items for her as well as open doors for her.
Fourteen-year-old Nikita Wang, a poster girl for CCI, was born with cerebral palsy.  Her mother said, "We are so grateful for Nikita's companion dog Morell.  She has brought more laughter, joy and friendship to our family. Nikita has gained more self confidence as a result of her interaction with Morell and people they met."
Nikita said, "Morell is my best friend. She goes everywhere with me."
Miss Seal Beach Sophia Spektor and some of her court will be assisting SBIFA during the meeting.
The donation for members is $12 or $22 for couples; non-members $15 or $27 for couples; $10 for students.  Pay by check at the door.
Reservations are accepted on a first-come, first-served basis. RSVP to Claire at (562) 431-5414.