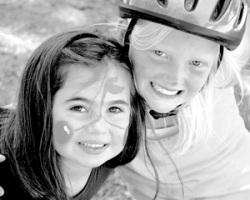 More than ever before there are a variety of options available to keep kids busy during the summer, yet summer camp enrollment continues to rise by approximately 8 to 10 percent annually. This phenomenon had left many people to ponder the question, why camp?
The reason seems to lie in the fact that camp does more than keep a child busy. According to camp directors, parents send their children to camp because of the positive impact it has on youth development. Kids increase self-confidence, self-esteem, and make new friends.
The Los Alamitos Youth Center's Rossmoor Park Summer Day Camp includes arts and crafts, board games, organized sports, carom boards, face painting, playground time, sidewalk chalk contests, reptile parties, mad science days, fun and fitness days, Wet and Wild Fridays, wheels days, talent shows, cake and toy walks, watermelon contests, potluck days, dances, gymnastics, cheer and more.
The Center has packed enough activities, sports and entertainment into 10 weeks to assure every day is over-the-top.
This diverse program combines the structure of recreational day camp with the excitement and adventure of enriching field trips, swimming, special events and more.
Not only will your child have fun, but they will be learning, too.
Each week camp counselors will focus on a specific country by introducing multi-cultural arts and crafts.
Children will learn about international musical instruments that are fun and unique.
The program is flexible. Participants may add as many or as few field trips as they like.
This summer campers will have an opportunity to go to Discovery Science Center, Ice-Skating, Wild Rivers, Knott's Berry Farm, Go Kart World, Pump it Up, Soak City, Angels Baseball Game and more.
Throw in a visit to McGaugh Pool or trip to Seal Beach each Wednesday afternoon.
For only $10 per visit, your child will be transported to and from McGaugh Pool in Seal Beach for swimming.
(All children receive a water safety test prior to entering the water and certified lifeguards will be on duty at all times.)
Choose from basic program hours or extend the fun even longer.
Come for a whole week or pick and choose your days.
Organizers say that whether the kids are wrapped up in Blongo Ball, dancing the day away or slippin' and slidin' in the sun, they'll be a part of the coolest camp in town.
The Youth Center is an independent, non-profit organization serving the youth and families of Los Alamitos, Rossmoor, Seal Beach and surrounding communities since 1952.
In March 2010, the Youth Center received a Golden Oak Service Award from California State PTA in recognition of outstanding service to children and youth.
The Rossmoor Park Summer Day Camp is collaboration between the Youth Center and the Rossmoor Community Services District.
Parent orientation night will take place on Tuesday, June 15 from 6 p.m.–7 p.m. at the Youth Center, 10909 Oak St., Los Alamitos.
To learn more about the Youth Center Day Camp, Teen Camp or register, call (562) 493-4043 or visit the Center Web site at www.TheYouthCenter.org.