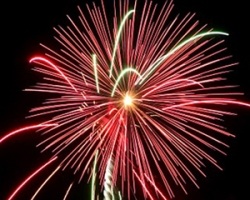 The tradition lives on.
The 23rd Annual 4th of July Fireworks Spectacular is taking place this year with the help of the following people who have donated to ensure this event continues:
George and Janet Watts, Wendy and Dean Grose, Charles and Carol Sylvia and the Dick Munns Company, the News Enterprise and Kenny Brandyberry.
The cities of Los Alamitos, Cypress, Seal Beach, the Community of Rossmoor, and the Joint Forces Training Base collaborate to host this annual event to honor the men and women of the military and celebrate our country's 234th birthday.
There will be incredible food and merchandise vendors, inflatable games for kids, free activities like military displays, aircraft flybys, and entertainment on the main stage… all leading up to the climax at 9 p.m. with one of the best and longest fireworks display in Southern California.
On Sunday, July 4th, the Joint Forces Training Base gates will open at 4 p.m.
Everyone entering the base must have a photo ID; children must be accompanied by a parent or guardian with a photo ID. Lawn chairs and blankets are highly encouraged, as there will be no bleacher seating.
Alcohol, dogs and fireworks are not permitted.
Free parking is available, but motor homes are not allowed at the Base.
For more information, contact the Los Alamitos Recreation and Community Services Department at (562) 430-1073 or the Cypress Recreation and Community Services Department at (714) 229-6780.