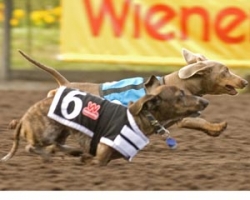 Hot dog! It's almost time for the dachshunds to run again at Los Alamitos Race Course.
Known commonly as "wiener dogs," the long bodied, short-legged, but intrepid members of the hound family will compete in the 16th annual Wienerschnitzel Wiener Nationals on Saturday, July 9.
In doing so, they will be helping to raise funds for their fellow furry creatures that live and await adoption at the Seal Beach Animal Care Center.
Who are these Care Center animals?
To walk in their paws, picture yourself abandoned by the only other creatures that ever fed you or showed you either kindness or in some cases cruelty.
You are alone, without money, clothes or food and the world is suddenly a very frightening place. You are not a wild animal that can fend for itself in nature, but a domesticated dog or cat.
The only thing you are sure about now is that your future is uncertain.
If you are lucky, before your life on the road does you in, you get picked up by the authorities and you are brought to the Seal Beach Animal Care Center, where once again you have some safety, sustenance and occasional affection. Who knows, some caring humans might even adopt you. Either way, you can live out your life in good measure without a death sentence hanging over your head.
Dee Carey, a volunteer at the Care Center knows many of the shelters' animals.
"Meet Opal and Diego," Carey said. "Opal is a shepherd/Boxer mix, and Diego is a pit bull terrier mix.  Their relationship began at the Seal Beach Animal Care Center and has developed into what one might compare to a traditional old-fashioned marriage."
Diego is Opal's protector and her soul mate, Carey explains.
"He has given her comfort, security and predictability in an uncertain world," she said. "She draws her strength from him. They are partners for life and their mutual dependence makes each of them stronger and happier. But shelter life is not our goal for this loving couple, they deserve a real home."
The Care Center's volunteers hope for all of their animals to find loving families where they be adopted and fit in. However, for some of the creatures in their care, it never quite clicks. Yet unlike government dog pounds, the Seal Beach Animal Care Center does not "put down" (kill) its four-legged clients. It takes patience on he part of the volunteers and it takes money to keep the center operation.
It is events like the Wiener Nationals and other fundraising throughout the year that keeps the center able to operate. And so, on July 9, it will be wiener dogs to the rescue. The dogs, bred originally in Germany to scent, chase and flush out badgers and other burrow-dwelling animals—such as prairie dogs in the old American west—also exhibit a competitive streak the racetrack.
The first Wienerschnitzel Wiener National race is set for 6:15 p.m., with the live horse-racing program set to begin at 7 p.m. at the Los Alamitos Race Course at 4961 Katella Ave., in Cypress.
The Wiener Nationals Championship race will be held at approximately 9:30 p.m.
The Wiener Nationals features the excitement of a horse race with the comedy of watching the little pups with giant hearts in action.
With a total of 98 dachshunds strutting their stuff in front of a packed house at Los Alamitos, a total of 12 trial heats will be contested at 50 yards with the winning wieners advancing to the championship race. The participants have been selected based on the creativity of their entries.
Guests can meet the stars of the night – the mighty wiener dogs—and their trainers/owners on the grandstand area.
Tickets are $5 for Grandstand or Clubhouse seating (17 and under are free). Tickets are available at the Seal Beach Animal CareCenter, 1700 Adolfo Lopez Dr.; Seal Beach Music, 118 Main St.; and Up Up & Away Kites, 139-1/2  Main St., or from shelter volunteers. Tickets may also be purchased on the day of the event on a first-come, first-seated basis.
For more information:  (562) 430-4993. The Seal Beach Animal Care Center Hours are: Monday-Wednesday, 1-5 p.m.; Tuesday-Thursday-2-4 p.m.; Saturday-Sunday-11-5 p.m.
Editor's note: This story is dedicated to Roxy Kaiser, a former resident of the Dana Point/San Clemente Animal Shelter and the best friend the author ever had.