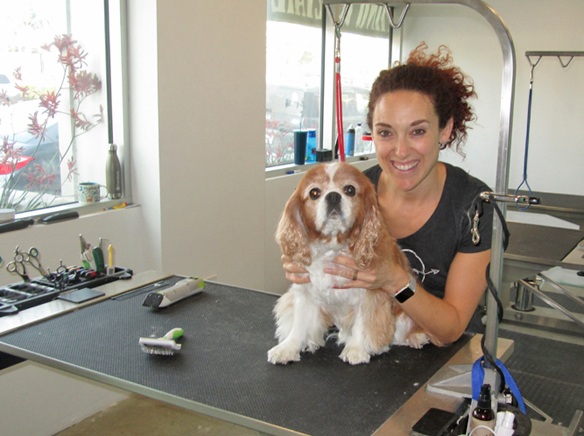 Longtime animal enthusiasts Melesssa and Dale Austin have relocated their popular Posh Pooch business from Sunset Beach's Peters Landing Marina to Main and Pacific Coast Highway (350 Main Street Unit C) in Seal Beach.
The public's invited to their Grand Opening from 3-5 p.m. on Sunday, Aug. 26. They'll have a Yappy Hour, local pet product vendors and a raffle to support Whats Up Dog LA (a volunteer, nonprofit dog rescue whose mission is to place destitute animals from high kill shelters with loving Forever Families).
Posh Pooch is well-known in this area, having flourished in Sunset Beach for 6 years. Brita Lemmon, owner of Brita's Old Town Gardens in Seal Beach, has been taking her dogs to them for years. "I love the self serve equipment and I bring them to her for a trimming to be in perfect shape," Lemmon said. "I am useless to cut my own dogs nails but their whole crew are especially great trimming nails. I'm so happy they just moved right up the street from me."
The business was next door to Calvary Chapel of The Harbour and Senior Pastor Joe Pedick, said, "The Austins were wonderful people, awesome neighbors, who really cared about their customers and community. I wish them well at their new location."
Melesssa (yes, she really has "sss" in her name) said they use 100 percent USA-made products and food. "We want to conserve our natural resources and help protect the environment," she said. "We use eco-friendly shampoo and our entire build-out is green–from plant-based paints and sealants, LED lighting, energy star appliances and low-flow fixtures, to the entire retail section, which is made from reclaimed barnwood."
To learn more about them, go to: http://www.poshpoochinc.com or call 562-592-7300. Their Business Hours are 9 to 7, Monday to Saturday.