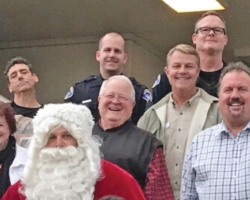 It started with a search for an attempted kidnapper and ended with Santa Claus handing out $100 bills to a family in need at the police station. This was a police call that didn't turn out how Seal Beach Police Department Cpl. Eric Hendry first expected. On the afternoon of Dec. 19, Cpl. Hendry responded to College Park East after a 10-year-old boy reported fighting off a would-be kidnapper on his way home from school. The boy, a student at J.H. McGaugh Elementary School, was crying and very upset.
His father arrived at the scene and sensed something else was going on. "Something just told me that that wasn't the truth," he said in a recent interview, but asked that he and his family not be identified.
Officers continued to interview the boy and he soon admitted there was no kidnapper and apologized to his father and police. But as Cpl. Hendry would soon find out, while the boy wasn't the victim of an attempted kidnapper, he was dealing with a lot more than most kids his age. His mother was hospitalized battling Crohn's disease, his older brother was undergoing intensive treatment for bone cancer and his I best friend recently moved away. "He's feeling like he lost his best friend, he lost his brother, and now Mom's sick," said his father. "It's just really hard."
There is also financial hardship. Since the mother's chronic illness was preventing her from working, the family of five recently moved in with other family to pool resources. And it was all happening days before Christmas.
'Spark that set off the Fire'
Cpl. Hendry told his wife the story of what happened and she suggested they should do something to help. "That was the spark that set off the fire," Cpl. Hendry said.
The next day, Cpl. Hendry called the boy's father to see if he could give a gift to the boy. Cpl. Hendry wanted to help a family in need, but he also wanted to thank the boy for ultimately telling the truth and saving police department resources that would have been used in a fruitless search.
It turns out, the boy wanted a skateboard. Cpl. Hendry knew just the person to call: professional skateboarder and Seal Beach resident Lance Mountain. Mountain was happy to help out, according to Cpl. Hendry. And he wasn't the only one. Cpl. Hendry told Interim Police Chief Joe Miller about what he was doing and that's when the effort to help the family grew even more. The Seal Beach Police Foundation donated $300 and another anonymous donor gave $200, according to Cpl. Hendry.
Cpl. Hendry took the $500 to Pavilion's to buy gift cards for the family. That's when he ran into the store manager. Cpl. Hendry explained why he was at the store and the manager immediately said the store would donate a Pavilion's Christmas meal to the family.
But it didn't stop there.
Other police officers chipped in a total of $300 and local business Inflight Surf Shop donated a helmet, skateboarding pads and a T-shirt for the boy. "[Cpl. Hendry] just kept contacting me, 'Okay, this thing is building steam, this person wants to get involved,'" explained the father of the boy. "It was really cool, really heartwarming."
'Just Like a Christmas Movie'
Roughly 24 hours after the initial call, the boy and his family were in the lobby of the Seal Beach Police Department receiving gifts and Christmas wishes. Professional skateboarder Lance Mountain presented a skateboard to the boy. Santa Claus had $100 bills for the children. Cpl. Hendry, Chief Miller and other officers were there to present the gift cards and to thank the boy for ultimately telling the truth.
"It was just awesome. Just like a Christmas movie," Cpl. Hendry said. "There wasn't a dry eye in the house."
The boy's father said his son was very excited by the whole event, especially meeting Mountain, and the family was appreciative of the police department's response.
"I was surprised that [the officers] took the time to do something nice and think about our kids," the father said. "I'm sure there's a lot going on in their own lives. That they would take the time to make a little special impact on him, that will be something that he remembers for the rest of his life."