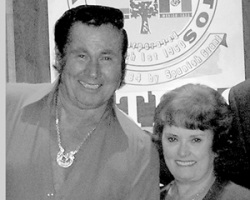 Local philanthropist Kenny Brandyberry has donated $15,000 to help Los Alamitos potentially keep its Fourth of July Fireworks Spectacular.
Brandyberry made the donation during Monday night's Los Alamitos City Council meeting.
City officials and those that attended the meeting were brought to their feet by Brandyberry's donation.
Before making the donation, Brandyberry called the thought of not having the event, which is in its 22nd year,  a shame.
"The Fourth of July in Los Alamitos is a time where families get together, where neighbors get together to enjoy each other's company and to enjoy the fireworks show," Brandyberry said.
Brandyberry then presented a cashier's check for $15,000 to Mayor Marilynn Poe as he was cheered on.
Poe said the council was grateful for the donation and thanked him for it. Robert Graham thanked Brandyberry for his support.
"Anytime something needs to get done in this community, Kenny is simply the man to do it," Graham said. "Kenny should get another round of applause for this."
An additional donation of $500 was presented on behalf of the News-Enterprise by General Manager Guy Cariglio.
He encouraged other businesses and citizens to donate as well. "We will keep a running tabulation and publish donations each week," he said.
The event was in danger of being cancelled if it could not become a more cost neutral event.
Last year, both Los Alamitos and Cypress each lost more than $9,500 in hosting the event.
This year's costs were expected to rise because of increased pay because of Los Alamitos employees making double time on the holiday.
During Oral Communications, many citizens criticized the city for what they thought was a last-minute attempt to raise the monies.
Poe said the council has been talking about the fireworks for the last two years.
"We discussed this last year. We discussed this heading into budget talks for this year's budget," Poe said. "We made cuts to last year's fireworks to trim costs and that worked. We know how important this is to the citizens. The discussion that this is last minute is simply wrong."
The city had been in talks with the base on the possibility of charging admission to the Joint Forces Training Base to defray costs.
That idea was refused as it is illegal to charge admission to get on a military base.
Cypress City Manager John Bahorski said the city was waiting to hear from base officials to ensure the event was going to happen before discussing the funds.
Donations for the event are still being accepted and can be made out to the Fireworks Spectacular and brought or mailed to City Hall, 3191 Katella Ave., Los Alamitos, CA,  90720.