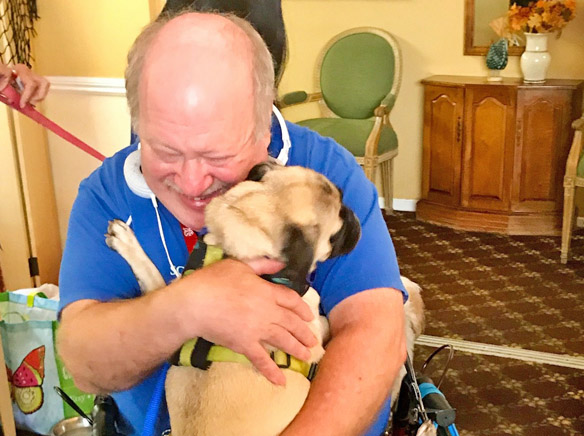 Have pet, will travel. Well, sort of …
Some say we are living in the early stages of what will be a 'sharing economy.' First there were timeshares, then bikeshares and now we have Uber, AirBnB, as we share almost everything, except pets.
Well scratch that (no pun intended), as a Seal Beach startup is changing the way we bring people and pets together. It's call Paws-to-Share and according to founder and president Jamie Goldfarb, Ph.D., it's no barking matter.
"There are so many people who love pets but cannot own them," he said in an interview this week. Goldfarb is a research psychologist and has put his extensive knowledge to work on the subject of people and pets. "I did intensive research for six months before we launched," said Goldfarb.
As much as Americans love animals, not everyone can have them as pets, thus the business model that allows people with pets to share them with people who want to love a pet, but for many reasons, cannot own one.
"We live in college dorms, senior homes, and tiny apartments, not to mention the financial responsibility of owning a pet," says the company's website.
The popularity of pets is no secret. Pet ownership in the United States is extremely high. Sixty-eight percent of U.S. households, or about 85 million families, own a pet, according to the 2017-2018 National Pet Owners Survey conducted by the American Pet Products Association (APPA).
Moreover, Americans spend more than $74 billion per year on their pets, making it a huge industry.
Goldfarb has found a way to use his service to act as a connector between those who want the fellowship of a pet but cannot keep them full time.
Pets-to-Share has a website portal for prospective owners of pets to sign up so that they can be vetted by the company. Once vetted, the animals go on the list of available pets on the website.
When clients request a pet, they pay $25 per hour to spend time with the pet. Goldfarb's company splits the fee with the animal's owner and keeps the balance for its expenses and back office work.
Goldfarb says they interview the client to get a sense of their needs, select qualifying pets and then the client gets to pick the pet they want.
Meanwhile the client gets access to the pet regularly, gets to know them, bond with them and even take them for walks and other activities as the relationship grows. Goldfarb says the owners go with the pets to ensure standards are kept but allow the clients to openly interact.
Clients "do get a bit of ownership" with the pet, says Goldfarb, adding that the service is great for stress relief, therapy and self-esteem.
The company currently has six local employees, but Goldfarb is planning for rapid expansion.
"When I started it, I thought it might be a great local service." Now, however, the company is growing rapidly and getting requests from Australia and other countries along with other parts of the USA. "I'm now looking at a franchise model," says Goldfarb.
The company did 360 visits last year and is on track to surpass that number this year. Already, the company has 75 active customers and works in more than 50 senior centers and 20 universities.
Already, the company has a stable of more than 100 dogs and cats (mostly dogs) to offer clients and that number is growing rapidly.
Goldfarb claims the response to the business is much greater than he anticipated and says there are millions of people in the U.S. and throughout the world who want to share the love of a pet without the ability to own one.
For now, however, the world can wait as Pets-to-Share will soon announce an expansion to San Diego and San Francisco, though Goldfarb is seriously considering options for global growth.