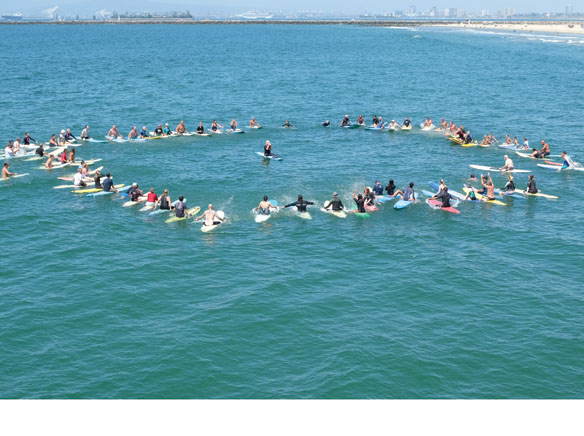 Surfers and beachgoers gathered on the shores of Seal Beach this week to give a final "wave" to their beloved Pastor, Chuck Carlson, who passed away in June after nearly a decade of beach preaching and saving souls on the sand.
"He was so jolly, the best guy EVER," said Michael Pless, the owner of M & M Surf School and with whom Pastor Carlson founded Hope of the Beach church in 2009.
Nearly a hundred surfers gathered on their surfboards for a "Paddle Out" on Sunday while other mourners paid their respects on the beach. Pless spread the ashes into the wind and sea and Carlson was home for eternity.
In a poignant blog post on the church's website, his wife of 47 years, Melinda (Lin) Adcock, thanked everyone for their prayers. "I am so grateful for the outpouring of love and prayers. They've held me up like a life raft in a storm. I feel your love, and I love you back," she said.
Pless, who owns and operates a popular surfing school, virtually lives on the beach and remembers praying before meeting Carlson for a pastor to minister the souls on the beach. "We literally ran into each other one Sunday morning," said Pless and Hope on the Beach church became a reality. God answered both of their prayers and Hope on the Beach was an instant success. "Chuck was an ordained minister and he was always there to provide love and counseling to anyone who needed it," said Pless.
Not many pastors have the opportunity to address their flock bare footed, but he was no ordinary minister. Not by any stretch, according to those who knew him and loved him.
Chuck's parents took him to Del Mar at the age of 12, rented a surfboard for him and he learned to surf. And surf. And surf. Young Carlson loved it and he surfed all of his life until he could surf no more.
And, although he saved many souls, it took a while for the vivacious young man to save his own. His story is one of redemption, flirting with God until one day the Lord came a-calling. Although his parents appreciated his love of surfing, his mother insisted he go to church. Surfing in the morning, he would quickly throw his "Sunday best" over his shorts and leave a trail of sand all the way to church. But he went, every Sunday morning.
Despite his church upbringing, Carlson was distracted by the growing "me generation" of the late '50s and early 1960s. A big, strong strapping kid, Carlson was an accomplished musician and played for a time with very popular rock groups like the new Christy Minstrels and Talk Five. His addiction to the 'wild life' eventually led to an invitation to leave the group, selling his share and buying a VW bus and a home for his parents.
Carlson even played professional football for a while with the L.A. Rams. He was truly a Renaissance man with money to spend. He also bought a boat, then crashed the VW and the boat, and, according to accounts, began to feel very empty in his soul. God began calling him back when his mother and stepfather were involved in a horrific accident on an L.A. freeway. Sitting at his mother's bedside, he promised God to come back if she survived. When her condition somewhat improved, Chuck went back to high living.
Three months later, his mom's condition took a turn for the worse. He could not be located and his mother, reportedly, awoke from her death coma just long enough to ask God to "save her son's soul." Then she died. Reports are that Chuck was so incensed he had to be sedated.
Like many of his generation, his was now a true search for the meaning of life. Soon he was off to Hawaii for more surfing and an escape to a mansion owned by a friend's relative there. It was at the goodbye dinner that he decided to return to the mainland. Their host, a Roman Catholic, shocked Chuck by telling him "God has something for you." She advised him to go home and get married.
Once back home, there was no new meaning, so Chuck was back to his old ways. One day he was reportedly so drunk, he fell face first into the sand, and it was there, on this unknown beach, that Jesus came to him in a vision saying to him "Come to me, Chuck."
"I'm not good enough," Chuck reportedly replied. "You'll never be good enough. Come as you are."
From that day forward, life for Chuck was never the same. Soon he met Lin and in April of 1972, they were married. In 1974, Chuck took the first of his unorthodox preaching assignments as he became the Director of the Waikiki Beach Chaplaincy back in Hawaii. There, he played his guitar, preached on the beach and was "scared out of his wits" as he learned to preach before an audience.
Eventually, he returned to the mainland, he and Lin began a family in 1975. Eventually, he finished college, was officially ordained and began a series of commitments to preaching and the gospel (while surfing) as he served a number of churches and was sought by even more. In 1992, while leading a junior high church group outing to a waterpark, he was severely injured in a terrible crash, breaking his back, separating his pelvis, causing multiple internal injuries. He spent 28 days in intensive care and a year in bed recovering at home.
Upon his recovery, he moved his family (wife Lin, sons Casey, P.J. and daughter Casey) to Sacramento to accept an assignment as a Senior Pastor, a church he served for 14 years. It was then that God called Chuck to return to SoCal. By a series of "divine appointments" Chuck ended up on the beach that day, passing out flyers, and there was Pless, searching for a beach pastor.
It was a surfing match made in heaven. Hope on the Beach, A Surfer's Chapel, was born. Pastor Chuck would hold two services every Sunday. He would speak to anyone. Good Lord knows, Chuck was in no position to judge anyone else and he would tell them so. He would always seem to make God relevant to the everyday person. By now Chuck knew key Bible passages by heart and his message would resonate to those who those who needed hope the most.
For nearly a decade, he earned his own beach walk of fame on the sands of Seal Beach. "In every possible moment, he radiated love, grace and celebration."
Many surfers do take surfing almost as a religion, but in the case of Pastor Chuck, it truly became the calling of his life.
As he would say, "Go in peace … and surf the Lord."
His flock will indeed miss him.