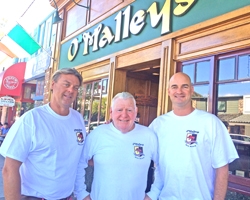 Brian Kyle has sold O'Malley's on Main to the owners of the Legends Sports Bar and the Boathouse on the Bay.
The sale marks the end of an era. Kyle has worked on Seal Beach's Main Street for 50 years.
Kyle sold the business, but he will keep the building and the land. The bed and breakfast in the back of the iconic Seal Beach pub was part of the deal. Kyle said the new owners would probably take over the operation in mid-September.
Eric Johnson, who is one of the new co-owners, said the escrow is open. They are now in the middle of transferring the liquor license. He said he couldn't disclose the sale price, but said both parties were happy. Kyle was all smiles this Monday when he and Johnson sat down for an interview about the sale.
Kyle said nothing is going to change. The restaurant will still be called O'Malley's and the menu will retain all the items. He said there would just be "better looking people" in charge and he also said the good employees will be staying on.
Johnson said he and his partner Dave Copley intend to rehire all the employees. Johnson and Copley are also co-owners of the Auld Dubliner Irish Pub.
Kyle plans to retire. He said he is ready to take it easy. "Gotta know when to hand it back to the younger folks," he said. But he added that in about a year, he knows he will want to do volunteer work. He plans to still be around.
Kyle was never a stranger to Main Street in Seal Beach. He said his first job was parking cars on Main Street. He said he parked cars (when he was 12 and 13) at Dave's Place on Seal Way and Dolphin. That could never happen in today's world, Kyle lamented.
While Kyle has been part of Main Street for half a century, he has owned O'Malley's since 1998.He said he probably put 300 to 400 kids through college as owner of the pub. "I still have a lot of employees that are still here to this day," he said.
The sale appeared to move quickly because Kyle didn't put the business on the market. He has known Johnson and Copley for many years. "I made one phone call and that was to Eric," Kyle said. "And the deal was done."
One of the reasons Kyle is happy is that Copley, like himself, is an Irishman.
Kyle is from Derry (the UK government calls the town Londonderry) in Northern Ireland. Copley is from Limerick, in the Republic of Ireland. Copley's first Irish pub was Limerick's, which he co-owned with Johnson. Kyle is also happy because Johnson's wife is a Griffin.
Rumors about the business have been flying on social media for several weeks—mostly inaccurate rumors. O'Malley's isn't closing. Johnson said they would not bring in a big screen TV. And, to address another rumor, Johnson also said he and Copley are not looking at buying the Main Street Hennessey's.
Johnson said O'Malley's was a success and he and his business partner don't want to mess with that. "We love Irish pubs," Johnson said. But Johnson also said that over time he and his partner would put their own stamp on the business. He said any changes would be gradual.
According to Lee Ann Mahoney, O'Malley's public relations person, changes to the menu would emphasize the pub's Irishness.  "We look at (owning) it as a real privilege," Johnson said.
To make a comment on this story at the Sun Newspapers' website, go to www.sunnews.org.