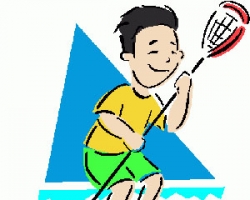 A new lacrosse club team is forming now for 7th and 8th grade boys who live in Seal Beach, Rossmoor and Los Alamitos.  It's welcoming players of all skill levels, including those who are brand new to the game.
"We're going to focus on growing skills with an emphasis on teaching fundamentals to better prepare players for future success in the game," said Los Alamitos High School Head Coach Ben Barchey who will help oversee the program.
Barchey, LAHS JV Head Coach Conner Schryver and Griffin's Head Coach Jim Crotwell hosted a series of free clinics on Sundays throughout November to help introduce the game to players who might be interested in joining the organization.
Clinics were held at McAuliffe Middle School and were "sticks only" with no pads required.
"The increased popularity of lacrosse overall, combined with the success we've already had at the high school level, made a strong case that now was an appropriate time to start a locally based program for middle school players," said Coach Barchey.
Registration for boys who decide to join the team will be due in during December.  Practices will take place locally twice a week and games will be played on weekends from January 8 through March 5.
For more information, contact Ben Barchey at:
LosAlmenslacrosse@gmail.com or (410) 804 1730; Conner Schryver at (805) 798 5751; or Jim Crotwell (562) 810.8020 or Dwelljc@yahoo.com.