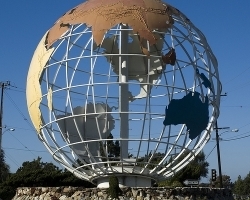 The Golden Rain Foundation paid the first installment of Seal Beach Leisure World's current property tax bill a month before it became delinquent.
Leisure World covers two City Council districts and is home to roughly one third of the city's population.
"The November property tax bill has been paid," said Administrator Dan Schaeffer.
According to Schaeffer, the first installment was paid on Nov. 9.
According to the Tax Collector's Office Web site, the first property tax installment is due on Nov. 1 of every year. The installment becomes delinquent at 5 p.m., Dec. 10.
As the Sun first reported in May, the Foundation paid the second installment of last year's property tax bill after the deadline to avoid a penalty had passed.
The Foundation provides administrative services to the 16 mutuals that make up the retirement community.
The checks were due on Monday, April 11. They were printed out and ready for signature on Friday, April 8. They were actually signed Monday, April 11. The result of the May delinquency: the Orange County Treasurer-Tax Collector's Office imposed a penalty of $272, 984.32 on 13 of the 16 Mutuals.
That figure represents 10 percent of the bill for the second installment of the property tax payment for 2010, plus a $23 fee.
At least one of the Leisure World Mutuals is now asking the Foundation to reimburse their share of the tax penalty and legal costs related to unsuccessful efforts to appeal the penalty.
The Golden Rain Foundation is seeking reimbursement from its insurance providers.
However, David Noble, one of the directors of Mutual 5, said their letter requesting reimbursement said their claim was not dependent on the Foundation getting its money back from its insurance carriers.
The second installment of the property tax will be due Feb. 1, 2012. The deadline for paying the bill without penalty will be 5 p.m., April 10.