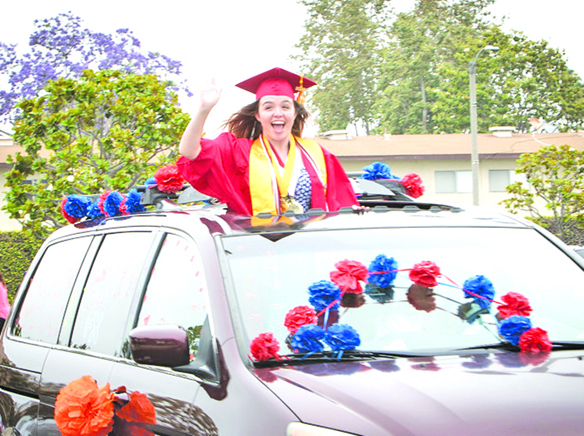 Because the pandemic did not allow for in-person graduation ceremonies last year, the Los Alamitos Unified School District has already penciled in several key dates and options for this year.
District Superintendent Dr. Andrew Pulver told the board at their meeting Tuesday that they have already locked in firm options for 2021, noting that pandemic graduates had their ceremonies "stripped" from them.
Pulver said the team has been doing much "contingency planning" for this year's "end of year" ceremonies even as they await "clear guidance" from the state on what will be allowed.  "It is our overarching goal," the superintendent said.
From large ceremonies to staggered groups, Pulver said they are determined to provide more closure for this year's class. The range of options announced included "modified ceremony" to a "drive-thru" graduation.
Even if the classes have to be done in staggered groups to allow for "as many in-person attendees" as possible, the district is determined to provide some sort of ceremony. Also, he said last year's senior car parade, sponsored by the Rossmoor Homeowner's Association, will likely return.
Therefore, while district officials await guidance and the exact conditions, Pulver announced key dates only for parental planning and with details coming later.
Here are the dates:
• LAHS Senior Awards, May 20
• Baccalaureate, June 2
• McAuliffe Middle School, June 7
• Oak Middle School, June 8
• Senior grad Parade, June 9
• Seniors visit elementary schools, June 9
• High School graduation, June 10 (traditional if guidance allows)
• LAHS staggered groups (if necessary), June 11
• Drive thru option, June 11
• Fifth grade ceremonies, still being arranged.
Pulver also announced final proportions of traditional (hybrid) students to LosAl@Home online students, and although they differed slightly between schools, about three quarters of students chose traditional across the board.
Elementary schools were 73 percent traditional, 27 percent online, while middle school students were 74 percent traditional, 26 percent hybrid and LAHS was 80 percent hybrid and 20 percent online.
Pulver said when it comes to graduation, they're all still considered to be in the same class and online students and traditional would all graduate in the same ceremony. 
In other action Tuesday, the board:
• Heard a report from Erin Kominsky, principal of Oak Middle.
• Congratulated Janet Murphy on being named Oak Middle School's "Hero of the Heart."
• Named Cory Alfaro, Oak Middle School as District Teacher of the Year.
• Promoted Bond Program manager Myra Gonzalez to Director of Fiscal Services.