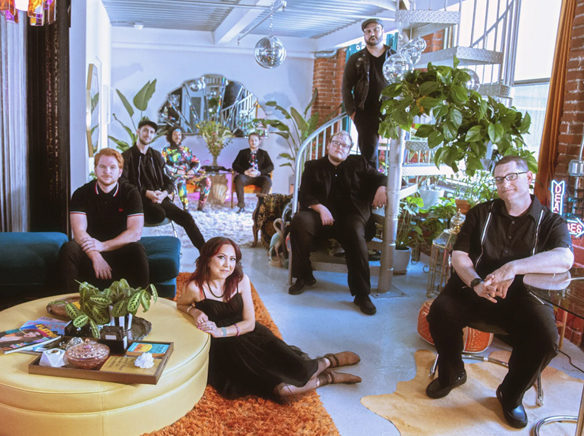 For readers who may not be familiar with the genre, ska music is an infectious and upbeat mix of reggae and rock marked by a prominent use of horn instruments (i.e., brass and woodwinds like trumpets and saxophones).
This week, we hear from founding member and Los Al High graduate (2003), David Parris; guitarist and keyboardist for his band Half Past Two.
Half Past Two themselves draw much of their influence from other ska acts, some of which, like Reel Big Fish, include LAUSD alums and received heavy radio airplay in the 90s.
Parris laughs knowingly at the mention of a Reel Big Fish song called 'Don't Start a Band,' about the true-life travails and disappointments that can come along with attempting to be a gigging musician outside of the major record label system.
But, although the members of Half Past Two all have other jobs, the band has sustained itself over a decade and a half since forming in 2006, and Parris has nothing but positive things to say about his sixteen plus year stint in the do-it-yourself music scene.
Tongue-in-cheek, Parris proudly remembers when his first band, formed while he was still at the high school, were given the opportunity to play a set of songs on the outdoor stage behind the band room during lunchtime.
This was a coveted platform for new bands and musicians at Los Al at the time.
It was then Parris and friends were bitten by the performance bug.
"The sense of accomplishment of … playing this concrete slab in the middle of your high school [it felt like] 'we're a real band, now … the school district recognized us!'"
After graduation, Parris describes the joyous grind of getting performance slots and building a following:
"We did a demo early on and got some gigs that way, but a lot of the early gigs, doesn't matter where it is, you don't say no."
Two other alumni, Max Beckman (2004; guitar/vocals) and Tara Hahn (2004; vocals) formed the band and after one performance, Parris joined on keyboards first, before branching out into guitar.
Like many students of music and rock or rock-adjacent performers, David Parris began his career with piano lessons before being drawn to rock music and the electric guitar.
And, like most members of ska bands, Parris says, he was in the Los Al marching band.
By now, Half Past Two have built up a modest following across the country.
For example, Parris recalls a performance at a Virginia ska festival where, to his pleasant surprise, this Orange County band received a warm welcome from fans.
After sixteen years of recording and touring, the band members all have families of their own, mortgages to pay, full-time jobs, but their passion for bringing their specific brand of ska to their fans has not wavered.
"What's my favorite song to perform?" he says, "one of our newer songs, it's called 'Shine,' It's a song Tara wrote about her daughter … having spinal muscular atrophy. It's the highest emotional part of the set and it's also just a really fun tune to play. It's bouncy, people love it, it really resonates with everybody."
Another perk of touring is being able to work with fellow musicians.
Parris and bandmates recently toured the West Coast playing shows with a band called We Are The Union, who he says are the nicest people.
Talking to David about songwriting, he says he is still influenced by the 90s wave of ska bands like Reel Big Fish, Save Ferris (whose vocalist is a Los Al alum), and the Hippos as well as So Cal punk rock mainstays Bad Religion, who Brooks Wackerman, another Los Al grad played drums with for over a decade until 2015.
When asked if he has any advice for young musicians or words of encouragement, he says, "Jamming in your garage and, you know, learning Green Day or Blink 182 or whatever covers is cool, but always make room for originals; always make room for you. I've heard those bands…I haven't heard you, yet."