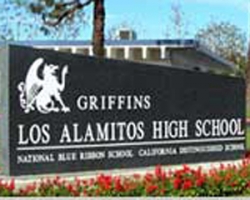 Griffin varsity football began last Friday night at Excelsior School against Norwalk High School. On the sideline Coach John Barnes, in his 32nd year as head coach was looking for the 290th win in his career.
Kendall Holmes, #1, returned the opening kick with resounding ability and determination putting the Griffins in good field position.
Enter Dylan Lagarde #3.
Now as senior quarterback, Lagarde is handling the ball with authority and with a quicker release this year, passed the ball with strength.
Cody Paul, # 5, now also a senior who rumbled in for a touchdown – his first of three for the night.
On Norwalk's first offensive series, it ran a tight formation based on trap plays and off-end runs.
With Dan Szechy, #33, as the right side Linebacker Los Al looked good at closing the interior line of any offense. Trevor Brand, #91, showed his strength at defense very well in pushing back his offensive lineman, thus blocking up a lot of the Norwalk offensive runs.
On Norwalk's fourth down, the Los Al defense put on such a rush that the Norwalk center over-snapped the ball past the head of his punter, who still managed a sidewinder soccer kick for 10 yards. This gave Los Al a great offensive advantage. A 26-yard-pass to Holmes set up a touchdown run for Cody Paul.
Still in the first quarter quarterback Laggard's pass to Luke Pasteil, #46, had him walking the sideline and dancing in for a 40-yard touchdown. Brett Beighton, #47, again showed his kicking skills for the extra point Giving Los Al a 28 to 0 lead.
In the Second Quarter, Cody Paul, #5's first offensive run went for 74 yards and a touchdown giving Los Al 35-0 lead. Norwalk did finally move the ball and scored a touchdown, but missed the extra point. The score now was 35 to 6 Los Al. With that Norwalk kicked off but the ball was returned by Holmes for an 89-yard kickoff touchdown return.
With another Los Alamitos touchdown, Los Alamitos lead 49-to-6 at half time.
In the third quarter, Griffins Coach John Barnes again showed his skills by inserting the second squad. Now led by Nick Wendell, # 9, at quarterback. Nick handled the ball well and will learn to hit the zone with stronger passing skills. With Beighton kicking the extra point, with 11men on the field.  Los Al now lead by 63 to 6.
On the ensuing kickoff Jacob Keno, #45, plowed into the runner for an open field tackle that was outstanding.  Daryl Mitchell, # 25, looked excellent on defense and showed some very aggressive tackling skills.
In the fourth quarter it was Mitchell with a 65-yard touchdown run. This gave Los Al a 70 to 6 lead and their first victory for this season. Norwalk managed to score another touchdown and extra point for 2. The final score read 70 to 14.
Los Al is starting the season well, however, there is still a long struggle for the CIF glory the team has enjoyed so many times under the tutelage of Coach John Barnes.