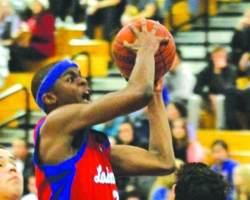 It came to no one's surprise that when the Griffins travel to away games,  the fans and students will follow.
As was the case when the Griffins  pulled into the Baron's home turf the Los Al crowd was ready to  support and cheer the Griffins to victory.
The Griffins opened up  with a powerful first half scoring 39 points and holding the Barons to  only 19.
The second half was no different as the Griffins scored  another 45 points to romp the Barons, 84-56.
Many highlights for the  entire team was evident as everyone played and watched senior Timmy  Chung shoot the lights out with an amazing 27 points all coming from  behind the 3-point line.  James Walker III poured in another 23 points  and Jack Haley had 13 points.
First year coach Cary Kutzke was  pleased with his team's overall performance.  "I'm  very happy for Timmy tonight.  I'm happy for our entire team.  Our  confidence is high as we continue with league play," Coach "K" said.
"I'm even more pleased that I have all my players back and  healthy," he said. The Griffins continue league play.  To see the Griffin  basketball schedule, you can go to www.losal.org.