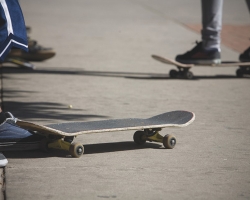 Hey, skateboard punk! Get out! You can't do that here!—is a degree of verbal assault by authority figures that Seal Beach skateboarders happen to routinely face when being kicked off local public/private property for skateboarding.
"No skateboarding" signs are posted everywhere in Seal Beach, on sidewalks, in local business parking lots and in school campuses.
According to the Seal Beach Municipal Code it's prohibited to skateboard on: city sidewalks, public property and privately owned sidewalks used for pedestrian traffic. "Anybody who rides a skateboard in violation of this section shall be guilty of an infraction," according to the code.
If there isn't a legal place for local skateboarders to skate, where do you expect them to skate? Is it possible that the city of Seal Beach could build a public skatepark in the future if the majority of the community would like one built?
Currently, there are approximately 20 skateparks in Orange County and 52 in Los Angeles County. The closest skateparks to Seal Beach are in Long Beach and Westminster. Since 1997, when skateboarders successfully lobbied for the addition of skateboarding to California's Hazardous Recreational Activities list, the number of skateparks in the U.S. has multiplied each year.
According to a 2001 market study by the International Association of Skateboard Companies and a 2016 market study by Technavio, the skateboard industry has grown from making $1.4 billion a year to $5 billion a year. In the United States there are an estimated 16 million skateboarders, 5 million (nearly one-third of the total number of skateboarders in the U.S.) live in California and 6.5 million (40.6 percent of the total number of skateboarders in the U.S.) are between the ages 6 and 11.
According to Tim Kelsey, Seal Beach recreation manager, "The biggest hurdles that would have to be overcome before a skatepark is built in Seal Beach would be identifying a location that would not impact residents. Unfortunately, Seal Beach is almost entirely built out and placing a skatepark in an already existing park would mean the loss of open space. And funding would have to be addressed, along with long term maintenance costs."
"There's nothing prohibited by code a skatepark from being built. Seal Beach has a very receptive community, if a need exists, if there's an issue of high priority, Seal Beach will deliver what we can," said Kelsey. "Although, a lot of appropriate planning would have to be made before a skatepark is built."
Frequently, Seal Beach skateboarders skate in the parking lot of CVS Pharmacy on Pacific Coast Highway. "No Skateboarding" signs are posted in the property, but they skate there because they have nowhere else to skateboard nearby. Willingly putting themselves at risk of getting a ticket from the Seal Beach Police Department just to have a fun time skating with friends and to practice tricks as well as learn new ones.
"It's ridiculous, I've gotten a ticket before just for skating on the Main Street sidewalk. Seal Beach doesn't have a legal place to skate, which stinks," said Luke Glowaki.
"If Seal Beach had a skatepark we wouldn't have to disobey the law to skate. We wouldn't get yelled at by authority figures for skating public property. And we wouldn't have to worry about getting tickets from cops for skating public property," said Connor Ma.
Local teenage skateboarders are full of joy while skateboarding together in the CVS Pharmacy parking lot. "If there is a skatepark in Seal Beach I'll be able to dedicate myself more to skateboarding and I'd be less likely to fall into bad influences like pot and alcohol," said Robbie Huber.
Based on an unscientific poll of 50 random people on Main Street and the Seal Beach Pier, 44 people voted, yes, they'd like a skatepark to be built.
"I think it'd be great for the local kids. They'd have a legal and safe place for them to skateboard," said Ed Furlong, a Seal Beach resident.
And six people voted, no, they don't want a skatepark to be built.
"A skatepark will draw riffraff to the community and put the community at risk of more crime and vandalism! Seal Beach is an elderly, quiet community and it should stay this way," said Vinique Lam, from Garden Grove.
A Recreation and Parks meeting is held on the fourth Wednesday of every month in the City Council Chambers at 211 8th St.
The Recreation and Parks Commission addresses issues of high priority, which is then put on the agenda to be addressed. There is a public comment portion during the meeting, which allows anyone to address the City Council on any issue being discussed.