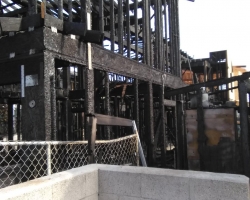 Seal Beach Police detectives, working cooperatively with Fire Investigators from the Orange County Fire Authority recently arrested John Louis Maier Jr., 60, of Seal Beach, on suspicion of arson.
On Thursday, Jan. 4, at 1:02 a.m., the Fire Authority and Seal Beach Police officers were dispatched to a structure fire on Second Street in Seal Beach. The home was a new construction, still in the framing stages, and was fully engulfed. Neighboring homes were evacuated and received some fire damage as well as some vehicles that were in the alley behind the homes.
Residents on First Street were evacuated. For an account of the evacation, see page 13.
The fire was determined to be of suspicious origin. Arson investigators from the Fire Authority and detectives from the SBPD conducted a joint investigation and determined that the fire was arson.
The property belongs to local realtor Ann Tuler. The house was unoccupied at the time of the fire. According to Tuler, the suspect lobbed a "Molotov-type Cocktail" over fenced-in construction site. Tuler said she does not know the suspect; nor does she know the reason why her house was targeted. No one was hurt in the fire. Tuler said insurance will cover the cost of the damage.
According to Seal Beach Police Cpl. Julia Clasby, acting public information officer, "There have been 10 arson investigations in the last five years."
Police are asking anyone with information related to this investigation to contact Detective Jeff Gibson at 562-799-4100 ext. 1109.
Sun News staff writer Darren Fraser contributed to this story.