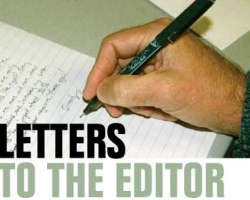 Our heartfelt thanks

My husband, Bob, and I would like to thank all of the people who came to his aid last Thursday morning the 26th. He was in the crosswalk at SB Blvd/Electric when a truck rolled through the stop sign and nudged him. He has a shattered shoulder and 5 stitches to his elbow and lots of scrapes and bruises. From Fireman Pete to Sergent Ezra to all of the emergency responders and to the kind neighbors and passersby, thank you so much. We are so lucky to be surrounded by so many fantastic individuals in our small town! And to my very special friends, Kim and Julie, who came and took my little terrier to daycare for me as I was in the ER for hours. You gals are the BEST!
There was a very kind lady who came out to ask my husband if he wanted a blanket and she provided him with a quilt, which I have. If you would like me to bring it by please contact Dixie at the Sun as she has my phone number.
Stephanie Sweeney
Seal Beach
Sixteen years of love

No words can describe the gratitude and appreciation I have for Dr. Hooykaas and his staff at the Seal Beach Animal Hospital. On Jan. 23  I had to make the gut-wrenching decision to put down my beloved cat Pooh after 16 years. It was like putting my child down. Dr. Hooykaas helped me through the whole process as I stood by her side til the end.
Dr.Hooykaas is not only an awesome vet but an awesome person. He is very caring and compassionate and his staff is the same way. A couple of days after my cat's passing I got a phone call from the doctor just to see how I was doing! A week later he sent me a sympathy card with some touching words. A few days after that I received a sympathy card from the whole staff with each staff member writing their own personal condolences!! I was blown away by their thoughtfulness! I don't know what vet you all use but Dr.Hooykaas is the most professional,caring, thoughtful vet I've ever experienced. Thanks again Dr.Hooykaas for everything  and thanks Pooh for putting a smile on my face for 16 years !!
Mike Verrecchia
Seal Beach
'Lunch Money' update

There is some good news and some bad news regarding Seal Beach's spending on meals.
First the good news, from May to November of 2016, spending on meals averaged only about $425 a month. About half of this was spent on dinners for the Council and City management staff when there is a 5:30 or 6 p.m. closed session before a City Council meeting.
Now the bad news. It is getting harder to keep track of these expenditures. Last July, City staff started using checks to pay for some of the meals. Thus, meal charges to the City credit card no longer give an easy, complete accounting. To get a monthly total now, you have to read through the 15-20 pages of checks that are part of the agenda packets for every City Council meeting.
Perhaps staff could explain the "business purpose" for this change. As it stands, it appears to accomplish nothing except decreasing transparency on a hot button issue.
Robert Goldberg
Seal Beach
Who holds city staff/manager accountable?

The City of Seal Beach has a dysfunctional administration:
Between the commentaries in the Sun by Seth about what's happening in our City Govt; the handling of the Chief Joe issue, it took less time to investigate Hillary's emails; the issues with the City Manager's handling of contracts and expenses; the conditions of our parks, the unpreparedness of having working pumps during the recent storms (how  can our City not make sure they were working right before winter begins?)
In addition the manner in which Community Development does not present  complete analysis of issues and the general rudeness and arrogance of Its Director, leads me to one question: what is the Council doing? It seems their job should be to hold the City Manager and senior staff to account. Yet council meetings based on the Agendas and lack of transparency on why the City is being so poorly managed leads me to ask why they are on Council and what they think their roles and responsibilities are in this dysfunction? Shouldn't they at least go in to a closed session and do a performance evaluation of the City Manager and hold her and senior staff to account?
Just wondering…
Stanley Smalewitz
Seal Beach
City manager's 'Lunch Money,' no bathrooms at PCH Chevron

On behalf of the concerned citizens of Seal Beach, I am requesting all the expenses Jill Ingram has incurred with her City-issued credit card be published in the Sun Newspaper, so all of the  residents can view them. Yes, they are on file at the Sun Newspaper Office, but they need to be published and I am requesting a public accounting.
Approximately three years ago many residents attended several City Council meetings, pertaining to the expansion of the Chevron station on PCH and 13th St., to have a convenience store. Thankfully this was overturned. During these discussions, the topic was brought up more than once, of the public not having restrooms available to them, at the same gas station, and our council was going to address the situation with the owner. To date, nothing has been done, myself and the residents around the area are fed up with customers urinating on the wall behind the station, peeing on the trees and bushes, and in the alley behind our homes.  Aren't years years long enough to address the problem? If the problem can be remedied at the station, I feel I can speak for most in the area on both sides of PCH: we would be quite happy.
This, as well as other comments and requests, will probably go unanswered, or no comment—as most articles brought up to our council—do. Maybe the elected officials should represent the people who voted them in rather than making idle comments. You council members sought your positions—it is time to represent the citizens!

Tom Hetherington
Seal Beach resident since 1954
No opinions in LW News

I am writing in the Sun Newspaper venue since I am certain this would not be published in the LW Weekly. ALL reputable newspapers have an opinion section. At one time the Golden Rain News as well.
It would appear no conflicting opinions are welcome in Leisure World as of now. To me America represents freedom, a peaceful place to live, and free speech. As one pundit said two centuries ago, "I may not agree with what you say, but I will defend your right to say it." An opinion section would allow for different points of view. The readers can choose what they like, or don't. You know, we've all lived long enough to make up our own minds.
I'm not saying our LW newspaper is terrible. It's not. In Long Beach, years ago at the then "Rainbow Pier," we had a "spit and argue" club. It got a little contentious now and again (in a child's memory) but never to the point of knock down and drag out. Wouldn't our newspaper, our community, and our own individual person be a little better informed and perhaps feel better informed and perhaps feel a little freer if we all could express our views. JUST MY OPINION.

Jack Carrigan
Mutual 1
Leisure World are residents kept in dark

Thanks to THE SUN for providing the information concerning the sudden departure of Jaime Guerrero, Leisure World's former Chief of Security, and advising of Mr. Fileto, now serving as the interim Chief.  It is insulting that Leisure World has chosen to keep their residents in the dark about this notable development.
We are advised of the comings and goings of other administrators, as we should, (i.e. the Healthcare Center, the Library, Recreation, etc.) within Leisure World but seem to be treated like children that cannot handle this significant information.
Leisure World … shame on you.

Sara Velke
Leisure World