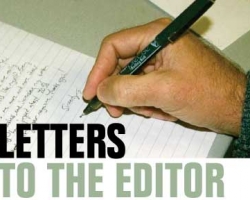 Goodbye to my Dear Friend Jenny

I deeply appreciate my friend's beautiful Mass cards, sympathy cards, bouquets and taking me out to dine when my niece , Jennifer A. Manuel, passed away recently.
I will miss Jenny's phone calls ,emails and awesome-cute e-cards. She was a computer wiz, a good cook and was great help to my sister Carol. Goodbye Jenny. I deeply mourn your untimely death. Now you are safe and happy with our dear God.
Lisa A. Dickson
Leisure World
Rebuttal of rebuttal to my previous letter: 'Seal Beach needs LA Fitness'

I am very aware of the reaction to the proposed LA Fitness Center by some in the Rossmoor Community as has been evident at both the Planning Commission meetings and their letters to The Sun. They are adamant about their point of view and the City staff and the Rossmoor Center developers have presented theirs. The Shops at Rossmoor over the years have had a wide variety of business activity as well as changes in the locations of buildings, it is a shopping center. The City of Seal Beach annexed it in 1967. This large shopping center has been a Rossmoor neighbor all through the continued growth in homes and home values in the community. You would think current Rossmoor home owners have taken the shopping center into consideration along with the good Los Alamitos School District, access to the freeways, access from Katella, Los Alamitos Blvd. and Seal Beach Blvd., and the good community vibe in staying in and upgrading their homes.
LA Fitness in the "Shops at Rossmoor" does not change character or even the look of the shopping center, since it is located away from the surrounding streets and can't be seen from those streets. Access to LA Fitness for those living in Rossmoor will be the same as they use for the center now, and the major access for the surrounding communities will be from Seal Beach Blvd. Staff and the developer have presented the changes necessary to mitigate the traffic issues. Current laws and law enforcement have kept this shopping center reasonably safe. The "Sun" hasn't reported crime sprees in the center.
The City of Seal Beach takes pride in its efforts to provide for the basic safety needs of its citizens and its visitors. This major development within the City provides additional property and sales taxes, additional utility fees and planning and building permits income. There are just too many reasons to make this center as successful as possible.
Based on news in the "Sun" and "OC Register", Seal Beach can use all of the revenue they can find to expand the police department and provide for the safety and wellbeing for all; improving and expanding the legitimate businesses in "The Shops at Rossmoor" provides that additional revenue.    Thank you for your consideration,
Pat Kearns
Seal Beach
Leisure World Adopts Martin Luther King Holiday

On July 25th the newly elected Golden Rain Foundation Board of Leisure World, by a  vote of 12 – 4, brought the 9,000 plus Seal Beach community into the fold by officially making Martin Luther King's birthday an official federal holiday there, as it is in most communities, and all 50 other states. The decision  transpired after careful consideration, spirited debate, and sensitive argument that eventually won over the needed majority of Golden Rain Foundation Board members. The same proposal, accompanied with hundreds of petitions, had been introduced twice before in 2003, and 2010 to former boards only to be turned down. The entire current board was in agreement regarding the significance of recognizing the man, MLK., though some cautioned over the additional cost that it would incur by giving full time employees a paid day off. In the end the majority concurred that making MLK's birthday a paid holiday, rather than a side note, would send a stronger message, not only to residents in Leisure World, but to the surrounding communities  that Leisure World is a welcoming, tolerant environment for all, and respects the contribution that King made, including his very life, for his advocacy of everyone's civil liberties.
Stevin Cohen
Leisure World
Lucille Martin
Leisure World
LETTERS TO THE EDITOR POLICY

The Sun welcomes Letters to the Editor, and Guest Columns.
We prefer topics of local general interest, topics or rebuttals which refer to an article, letter or column that has appeared recently in this newspaper, and that our editors select to be either published in print or online.
Opinions expressed and claims made in letters and columns are those of the writer and not The Sun News.
All correspondence to The Sun is subject to publication.
Letters to the Editor should be 200 words or less, are subject to editing for length or typographical errors, and they should be e-mailed, mailed or delivered in person and must contain the writer's name, address and telephone number (the latter two are for verification, not publication).

E-mail letters and rebuttals to editor@sunnews.org.