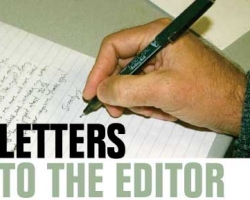 A mayor's apology
I would like to take this opportunity to apologize to Chuck Feenstra for a comment I made at the City council meeting last Monday evening. I was rude and flippant and acted with a lack of respect. This is not an action I am proud of and I make a promise to all the citizens of Seal Beach to not let that kind of lapse happen in the future.
Sandra Massa-Lavitt, Mayor
and City Council member
This smacks of secrecy
The Thursday, Dec. 8, edition of The Sun Journal carried an article announcing the appointment of Phil Gonshak to position of commander overseeing the Operations Bureau of the Seal Beach Police Department. The article went on to say that ACTING Police Chief Joe Miller was the previous commander. Were the facts misstated? Did I misread them? Is Officer Gonshak the "ACTING Commander" since Chief Miller is the "ACTING Chief" (assumed to return to his former Commander position)? Or has there been some action taken but not divulged by the manager and council?
I understand discretion in hiring/firing/investigations, etc. But what is going on in Seal Beach with Chief Joe smacks of secrecy not discretion. At the very least it would be nice to have an update. A review, if you will, recapping the date the complaint was filed against the Chief, the length of time allowed for an investigation of this type of complaint, and a report of hours and resources so far expended to expedite the process, and a probable end date for resolution.
We are not "subjects" of the realm, we are full fledged citizens and therefore equals to the city manager and council. They actually work for us. It is to the good of our community that we are kept in the loop to the extent the law allows.
Norma Toohey
Seal Beach
Substantial concerns
When City leaders try to frame the current public discourse as vitriolic, it's my belief that perhaps it's time for change. I can't speak to the agendas of Paul Yost, Seth Eaker, or Robert Goldberg, but they bring up substantial concerns in the last several months. Whether it be the Brown Act, the Pier, Main & PCH, or the current situation involving Chief Joe, there has been very little transparency and even a lesser amount of trust in those in City Hall. And that's beside the very minor issue, but real to many of us, of trying to get new nets installed on the volleyball courts at 4th and 6th streets over the last several months. Months! I'm not quite sure what has happened, but it surely may be time for change.
Thomas McLaughlin
Seal Beach
We want Chief Joe back
I would like to respond to Ellery Deaton's Guest Opinion in the 12/08/2016 of the SUN. Ms. Deaton please direct your call to civility to City Manager Jill Ingram and her cronies. Complaints about Jim Basham's behavior toward the residents of Seal Beach have come to the Council's attention publicly in Council meetings and privately by email or conversation. No disciplinary action of any sort has been taken. If anyone wants to see how Jim Basham treats residents of this town I invite you to watch archival Planning Commission Meetings of two years ago when Robert Goldberg was a Planning Commissioner. The disrespectful treatment is inexcusable. There it is in living color for all to see. Ms. Deaton's divide and conquer style has become very transparent to most of the community by now. It has been going on for far too long.
Taxpayers are tired of paying for Jill's inability to negotiate (Long Beach Transit, Ruby's, two other restaurants bidding for contracts on the pier), etc. The Call to Respect and Civility by Ms. Deaton needs to be directed to Jill Ingram and her 12 loyalists.
The citizens of Seal Beach understand respect and civility … we have had Chief Joe as a role model and we want him back.
Sharman Snow
Seal Beach
Village 605 on Katella
For the proposed Village 605 shopping center at the old GTE/Verizon/Dex Media site on Katella Avenue by the 605 Freeway and adjacent to the Los Alamitos Civic buildings, Recreation Center and Oak Middle School, the project proposal estimates more than 10,400 daily visits (cars) there with an estimated AM peak hour and a PM peak hour of 400 to 500 plus cars. There would again be during peak arrival and departure times challenges as hundreds of people are moving in or out of the complex during each of those two peak hours. The traffic volume would not be just from the usual traffic already on Katella because with the large 120 ft tall illuminated freeway sign that significantly promotes the Village 605 but not the City of Los Alamitos, they are obviously trying to attract additional automobile traffic from the ( out of town ) freeway traffic that would not ordinarily traverse Katella, adding additional traffic to Katella Ave throughout the day and evening. There would also be the store employees arriving and departing at the beginning and ending of their work day.
It's just that traffic on Katella is already so congested that adding to the congestion instead of trying to reduce it is a worsening of the quality of life for our residents and all local residents that depend on Katella Ave to connect to the rest of the world. There will be longer waits to traverse Katella in both directions for longer periods of time throughout the day and evening. There will be increased pollution because of increased automobile traffic moving at a necessarily slower pace, and also from increased traffic from delivery trucks and tractor trailers . There will also be increased risk of collisions because of the necessity of many more cars having to move across multiple lanes of traffic in both directions, especially from the 605 North freeway exit to the extended and signaled left turn lane, according to the access plans for this development.
I often avoid Katella and merchants accessible via Katella because of the already high congestion along that route.
No doubt there are financial advantages for Los Alamitos besides tax revenue, including increasing the property value of the Civic Center for which there has been discussion of selling ( perhaps to these developers?) and relocating. This situation might possibly be viewed by some as quite self-serving; a possible conflict of interest for approving this project. While this project does fall within the parameters of the already developed Los Alamitos City "General Plan and associated Environmental Impact Report, "and according to Los Alamitos based on that did not require a new Environmental Impact Report or traffic study, but only completing a checklist of compliance per my understanding. But that does not mean that the Plan already established by a group of well meaning people in the past for the whole city is correct for this particular situation/location based on closer scrutiny and perhaps more focused analysis.
Just because Los Alamitos can do something doesn't necessarily mean it should. Personally I do not care to be further sacrificed to the "traffic gods" for the financial gains of others. If you oppose this development which further worsens traffic congestion on Katella Ave please let the Los Alamitos City Council know right away.
Douglas A. Smith
Rossmoor
Santa's 'Reindeers'
Christmas comes but once a year and miracles and mistletoe fill the air. It's a time to give and a time to receive. It's a time to help those in need. This year I have been caring for four little "reindeer." One goes by the name of Lady and is like a big loving polar bear. She'll roll on her belly, then all you need to do is scratch her tummy, and she will surely love you.
Next we have Prince, whose name fits him quite nicely; he may be small but he is oh so mighty. He loves to sit on your lap, while you're taking a nap.
He'll kiss you over and over again, he truly is a man's best friend. Barney is a funny one, he'll get along nicely with your daughters and sons. He is a little bundle of joy and really loves to play with his toys. Last but not least, introducing Benji. He has the looks of a show dog but has the heart of gold. You can style and comb his hair and he'll go with you almost everywhere.
Some of their interests include: long walks on the beach, cuddling under the sheets, belly rubs and sometimes baths in the tub. You can be their miracle ,you can make their hearts feel full. So hurry up and make the call.These aren't just any old dogs you can find in a mall. These are the most special "reindeers" of all. Call for more information, 714-495-5435.
Jared Mckenzie
Huntington Beach
Loved community Thanksgiving Dinner
Recently I read with interest in the Sun News' front page story regarding the tremendous success (through the combined efforts of the Chamber of Commerce and community) of the annual Thanksgiving Dinner at St. Anne Church.
I enjoyed the photo session with the Miss Seal Beach Court, the festive decor, Bingo games, the delicious turkey and ham with all the trimmings served by friendly-enthusiastic volunteers. Socializing with our tablemates enhanced the beauty and human kindness celebrating Thanksgiving Day with this huge and friendly crowd. I doff my hat to all who made this spectacular occasion a success.
Lisa A. Dickson
Leisure World, Seal Beach
Appalled
Even from Las Vegas, I heard about the Monday, Dec. 12 council meeting, where Mayor Massa-Lavitt not only insulted Chuck Feenstra, a resident, and former city planner, and failed to recognize our State Senator and former County Supervisor Janet Nguyen; apparently, I am also a lobbyist according to Councilwoman Deaton and the City Attorney for it was my request for clarity on the status of Chief Joe Stilinovich which was read to the public.
Further, I am shocked and frankly appalled that State Senator Nguyen never even communicated with or knew the identity of the lobbyist who was hired by Jill Ingram and paid more than $150,000 for defending our city's representation on the OCFA board.
I would have lived in Sacramento for months and not only would State Senator Nguyen and Assemblyman Travis Allen know who I was and what I would be advocating for, so would the rest of the entire California legislature, including the governor.What on earth was this firm, Khouri Consulting doing with our tax dollars? What oversight and reporting was required for such a company to turn into the City Manager?
Where was an RFP for such a lucrative contract? What connection existed between Jill Ingram (or executive staff) and Khouri Consulting before the award? I would certainly have thrown my hat in the ring, and I would report out to the entire community what was going on for even a third of that price! I am embarrassed for our town and the excessive and grandiose compensation for such negligent work. This must stop.
Seth Eaker
Seal Beach