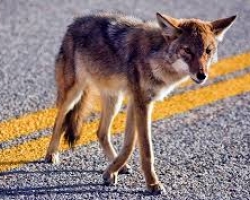 As the number of coyote sightings in Leisure World increases, residents are being urged to remove "attractants" from their patios, learn hazing techniques, and protect their pets.
With the whelping, or breeding, season starting early due to the drought and warm weather, the coyote population will rise in the next few months, and pups born or brought into Leisure World soon will be foraging for food.
The Golden Rain Foundation, which manages the gated community of 9,000, has taken several measures to prevent their incursion, but coyotes will always have a presence in Leisure World. There are numerous points of entry around the neighborhood's 1-square-mile perimeter, includng flood channels, culverts and iron gates designed to keep out 2-legged, not four-legged, intruders.
"We all need to be ready," said Randy Ankeny, GRF executive director. "Last season, the community came together to help control urban coyotes within Leisure World, but sadly, some pets were lost or injured. We need residents to report sightings to our security staff, and get rid of attractants on patios such as pet food, fallen fruit, trash and garbage."
Though coyote sightings abound on local social media pages, Ankeny said Leisure World's security office received only about a dozen reports of sightings in 2017, and none of those involved injuries to pets or ipeople.
He said education and hazing are the most effective ways to deal with coyotes, and Leisure World's newspaper has run numerous articles on how to react if one is spotted. GRF has also made Seal Beach's Coyote Management Plan, which includes tips to prevent encounters, available to residents. Many residents, perhaps unwittingly, contribute to the problem by feeding the hundreds of squirrels, rabbits and racoons that inhabit Leisure World and are an easy source of food for coyotes. Others allow their pets to run freely on the grounds, or on long leashes that make them attractive targets not only to coyotes, but other predators, such as hawks and owls that nest in Leisure World.
Though most of the community's 16 individual homeowners' associations, called Mutuals, require that dogs be on 6-foot leashes and cats kept indoors, there are no penalties for violations, making enforcement impossible. Ankeny said he'll raise the issue with Mutual presidents in the days ahead.