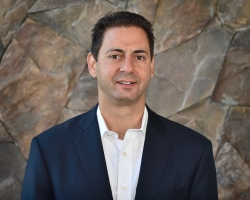 It is always a pleasure to usher out the prior year, and welcome in the new one. It has been great over the past quarter to watch so many members of our Chamber of Commerce community come out and volunteer for several of the year-end events.
In November, the Seal Beach Chamber of Commerce put on its annual Holiday Tree Lighting at the Pier. Just days later, it put on the annual Thanksgiving Dinner at St. Anne Catholic Church.
I couldn't be more proud of the outcome of both events.
This year our annual Tree Lighting was held a week earlier than in previous years. This change was made in response to community input from many people who were out of town during the Thanksgiving weekend, when the event was traditionally held.
Over the years, this event has grown to become a favorite of mine, the Chamber's and the community.
Who doesn't love a little imported snow, Santa, holiday tree lighting, and family fun to kick-off the holidays. Having the local award winning choir groups, and of course the McGaugh choir with their paparazzi (aka parents with extending arms and cellphones in video mode), was the added touch to kick off the Season.
Thanks so much to the City staff, and Brook Reid and her team of volunteers who made this event extra-ordinary and extended the celebration all the way up Main Street with retail shop participants, restaurant specials, music, and carolers throughout.
St. Anne Church, here in Old Town, has for decades housed the Chamber's annual Thanksgiving Dinner.
Hundreds of individuals come to the Church on Thanksgiving Day to partake in games, food, fun, giveaways, photo opportunities, and most importantly, to celebrate this time honored tradition with one another.
Most of the participants are geographically away from their families or may be in need of a helping hand or friendly companionship or both.
This annual tradition provides participants with a community family, traditional meal and comradery, even if only for the day.
The dozens of Chamber volunteers, assisted by the Seal Beach Lions and Leos clubs and the generosity of St. Anne's, is a reminder of what a great community we live and work in. A huge thanks to everyone who helped out, and a special shout-out to Chamber Board of Director member Tim Way, who chaired the event this year.
And once again the Seal Beach Lion's Holiday Parade was a great kick off to the December festivities.
It is always a pleasure to be involved with the Parade and see the businesses, non-profits, organizations, fun floats and groups "marching" down Main Street. And anything that includes recreating ay Off, an entry by one creative local business, is sure to be loved by all. Thanks Lions, Leo's and city of Seal Beach!
So yes, it is fun to usher out the past year and welcome in the new. For the Seal Beach Chamber of Commerce, this means presenting our monthly member breakfast meetings, and hosting the Health Expo, the Classic Car Show, the Leisure World Community Expo, and multi-week Summer Concert series throughout 2018.
It also means the bar is that much higher to produce great community events once again, that meet or surpass our expectations, while promoting our local businesses. This can only be accomplished through the City's and the Community's help. We welcome 2018, and hope you will support your local businesses and the Chamber of Commerce.
Scott Levitt is president of the Seal Beach Chamber of Commerce.