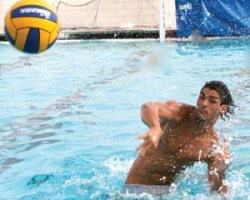 The Los Alamitos boys' water polo team is loaded with strong and smart  talent and will be a contender amongst Orange County's many elite  teams.
Assistant Coach Jim Sprague, whose coached polo for over 48 years, was complimentary to all the hard work that the team has put in so far.  Top teams like El Toro, Newport Harbor, and Mater Dei will be  just a few of the best teams the Griffins will have to face this season.
Team captain Joe Ferretti, is excited and optimistic about this years team, and said, "The team has come a long way already, and I think we  have a great shot a winning league and CIF."
Ferretti also said: "My goals are to make sure that the team comes together and that we play our best in every game."
Coach Carlson is also optimistic about this season.  "We have put a  lot of hard work into our offense and should play good defense," said  Coach Carlson.
You can see all the polo games on-line at www.losal.org/athletics.