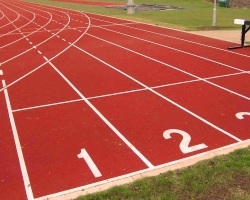 The Lady Griffins from Los Alamitos High School track team have something to celebrate this year. The girls are this year's Sunset League Champions!
It's been a long overdue celebration since the last championship back in 1991. The Lady Griffins dominated at league champions by shattering three Sunset League records and dismantled two school records on Thursday, May 6, at Cerritos College. The Los Alamitos track program excelled in a track meet composed of the best of the Sunset League.
"We are very proud of our girls, they have worked extremely hard and it shows, a championship very well deserved…" said Nathan Howard, head coach of the Griffin track team.
Since league finals, the Lady Griffins have advanced to the CIF championships in the 4×100, 4×400, 200 meters, 400 meters, 300 hurdles,  long jump,  and pole vault events.