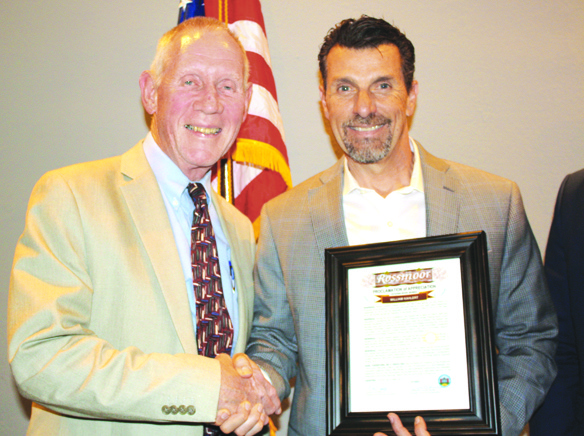 In response to the recent resignation of former Director Bill Kahlert, the Rossmoor Community Services Board of Directors discussed the two options available for filling the vacant position at its Tuesday, May 14, 2019 regular Board Meeting. The RCSD Board voted to make an appointment to the position rather than call for a special election, which incurs considerable expense to the taxpayer.
Below is the Notice of Vacancy which invites Rossmoor residents who are also registered voters to submit a letter of interest and resume to the District office no later than 5:00 p.m. on Friday, May 31, 2019.
At the close of the application period, the Board will conduct interviews with the prospective candidates to determine their level of interest and qualifications. The Board will then take up the matter of the appointment at their Regular Meeting on June 11, 2019 at the Rush Park Auditorium, 3021 Blume Dr. at 7 p.m.
The successful candidate will be sworn in after the appointment and will immediately begin serving as a member of the Board. The term of this appointment ends in December 2020 at which time a general election will take place for electing Board members to those seats whose term has expired.
Notice of Vacancy:
Please take notice that Director Bill Kahlert has resigned from the Board of Directors of the Rossmoor Community Services District effective May 15, 2019. As a result of this resignation, there is now a vacancy on the Board of Directors.
Pursuant to Government Code Section 1780, the Board of Directors may, within 60 days of May 15, 2019, make an appointment to office of Director to fill this vacancy. The term of office for this position expires in December 2020.  A person appointed to the office of Director must be a resident and registered voter within the boundaries of the Rossmoor Community Services District.
Anyone interested in being appointed is required to submit a letter of interest and a resume setting forth a brief summary of the person's interest, qualifications, and background.  Letters of interest and resumes should be personally delivered, emailed or mailed to the District offices so that they are received at the District offices no later than 5:00 p.m. on Friday, May 31, 2019.  Letters of interest and resumes should be emailed to: ldeering@rossmoor-csd.org or hand delivered or mailed to the following address:
Joe Mendoza, General Manager
Rossmoor Community Services District
3001 Blume Drive
Rossmoor, CA 90720