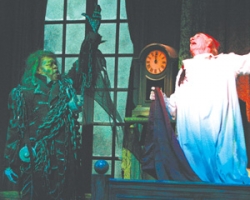 Christmas will once again gladden the heart of curmudgeonly Ebenezer Scrooge when South Coast Repertory presents its 32nd annual production of "A Christmas Carol" from Nov. 26 through Dec. 24.
Hal Landon Jr. (everyone's favorite somersaulting Scrooge) and director John-David Keller (who also plays Mr. Fezziwig) have been part of this beloved Orange County tradition since its inception in 1980 and will return to the stage again this season. Sharing the stage with them will be SCR Founding Artists Richard Doyle and Art Koustik, reprising their roles as the Ghost of Christmas Past and Joe, respectively.
The cast also includes 16 local child actors, most of whom are making their first appearance in the holiday show. The Shows start at 7:30 p.m. Tuesday through Saturday nights (except Nov. 29 and Dec. 7 and 24), with matinees at 2:30 p.m. Saturdays and 12 and 4 p.m. Sundays. Exceptions: On Friday, Dec. 23, there will be a matinee at 2:30 p.m. and on Saturday, Dec. 24, there will be matinees at 12 and 4 p.m.
Tickets may be purchased online at www.scr.org, by phone at (714) 708-5555 or by visiting the box office at 655 Town Center Drive in Costa Mesa.