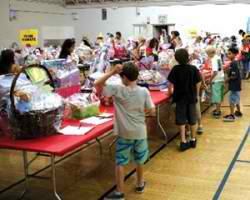 To some folks, McGaugh Elementary School in Seal Beach is the Beatles of grammar schools in this corner of West Orange County.
As one of the first elementary schools in the area, McGaugh has laid the groundwork for the culture of the local Parent/Teacher organizations, and the tradition of community involvement in our children's education.
Over the past two decades, The McGaugh Elementary Annual Carnival and Silent Auction has become a big part of that tradition, raising a significant amount of funds each year for students and programs in the classroom. It has marked the fall season and foreshadowed the coming holidays as well as the swallows returning to San Juan Capistrano.
The carnival will be back again for a limited engagement on Saturday, Oct 23. The organizing committee is bringing new games aimed at adding to the event's excitement. There will also be largely expanded menu of tasty foods to adorn this year's Carnival.
The prizes are what some would call "tremendous." Meanwhile, thanks to generous donations, great values also distinguish both the Silent Auction and Carnival this year.
"We have increased our prize budget by 50 percent this year!" said Dana Burney, one of the carnival's co-chairs. "We received so much thrilled feedback on the increased quality over last year's prizes that we stepped it up another notch this year. In addition, Prize Booth Buyer Dawn Caviola has done a great job finding deals to expand our offerings each year!"
The Silent Auction is an interesting mix. One can get singular deals on things like Angels' or Dodger's tickets—often selling for well below face value.
"Everybody wins," said Michelle Gillespie, "Not only does a Silent Auction bidder get a great deal, but all the proceeds benefit our town's children!"
The difference between Silent Auction and the Carnival is that the Silent Auction opens a day earlier. Many people who plan to attend the carnival don't know that Silent Auction actually starts immediately following the end of school on Friday. Therefore, at 2:15 p.m. on Oct. 22, the McGaugh School Gymnasium will be open and accepting bids.
Carnival organizers said this is important because of the popular "Buy It NOW!" feature, which sets a price on items that allows a bidding bypass to purchase the item immediately.
The Carnival welcomes new tasty treats this year. Chronic Tacos, Funnel of Love Funnel Cakes and Javatini's Espresso & Gelato will be present for the first time ever, bringing a wider variety of options to fuel the fun all day.
These will be in addition to our favorites who return each year: Z-Pizza, Dippin' Dots, Lil' Shavers Shaved Ice, Kettle Corn and the Lion's Club cooking up hamburgers (donated by O'Malley's on Main.) These businesses have supported McGaugh's carnival and other fundraising events for many years.
You don't even need to have a student at the school in order to stop by and enjoy the fun and food. Nor is a PTA membership required to partake in the 25 percent bonus enjoyed on pre-ticket sales.
Just stop by next week right after school Thursday and Friday to enjoy $25 worth of tickets for $20. The carnival committee set the price as a way for patrons to stretch a tight budget and still benefit McGaugh Elementary School.
Carnival hours are 10 a.m. to 4 p.m. on Saturday, Oct 23 at the school campus at 1698 Bolsa Ave. in Seal Beach (at Bolsa and Seal Beach Boulevard).
New this year is the giant inflatable slide, skeeball, Boom Blasters (a three-way race to pop a balloon) and an inflatable baseball throw. These items have been added due to their success at other carnivals. The carnival committee said it was looking for games that were "fun tested."
The Silent Auction opens at 2:15 p.m. on Friday, Oct. 22, and runs into the afternoon on Saturday. Different bidding categories close at different times (all clearly annotated on the bid-sheets) to give the Silent Auction volunteers time to close out each auction in a fair and orderly manner.
So many thanks to the local businesses already mentioned, as well as Bayside Realty, Coffee Bean and Tea Leaf, Seal Beach Princesses and individual donors too numerous to mention.
Carnival Co-Chairs include Carly Hecht, Lina Ayale, Dana Burney, Lisa & Michael Berry, and Andrea Crammer. Dawn Caviola for Prize Booth and Kimberly Osborne Food Booth, Linc Frazier and Greg Danner carnival layout -set-up & heavy lifting. Silent Auction: Chair Michelle Gillespie with co-Chairs Jennifer Brennan, Liz Dubin, and, Tom Motter, McGaugh PTA President.